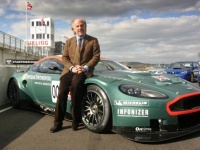 David Richards doesn't seem like the kind of man who would enjoy hurtling 70mph down a forest track in the pitch black. He is softly spoken, measured in response and has a solicitous manner. But despite attempting to steer towards a more conventional path in his younger years, adrenaline-filled sport has followed him throughout his career.
Now chief executive of Prodrive and chairman of newly acquired Aston Martin, Richards has a challenging year ahead. At a time when the automotive industry is struggling, he has the twin responsibility of maintaining interest in motor sport while pushing ahead with green technology in the mainstream automotive sector. A difficult balance to strike, but one that Richards believes is entirely possible.
'I don't believe motor racing can help put low-carbon products into production because we're not production engineers and that's another skill set,' he said. 'What we can do is make people aware of the benefits of these products and technologies. That to me is the role of motor sport: building awareness. It needs to be both appealing and relevant to wider society and we can certainly do that. If that means throwing out some sacred cows, so be it.'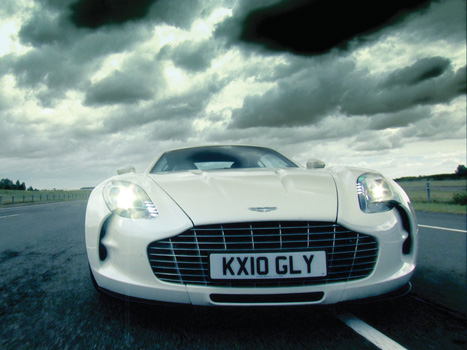 Richards has had an unusual path into motor sport. His introduction to high-performance engineering came at 17, when he became the youngest person in Wales to hold a private pilot's licence. The RAF offered him a university scholarship to study engineering and later become a pilot in the air force. But while most teenagers would have jumped at the chance, Richards instead chose what some might describe as a more mundane profession - accountancy.
The role of motor sport is building awareness of the benefits of low-carbon technologies
'I came to the conclusion that flying would be fun but restrictive in its opportunities,' he said. 'I went for a more sensible route and trained as a chartered accountant in Liverpool for five years. At the same time as studying for my exams, I started competing in local rallies.' By then, Richards had got a taste for motor sport. His steady nerves and natural ability meant that it wasn't long before he was spotted by a number of the factory teams and began his career as a professional rally co-driver.
At the age of 24, he left full-time competing to become team manager for Fiat. He soon returned, however, with Ford and in 1981 won the World Rally Championship title with 'Flying Finn' Ari Vatanen in a Mark Two Ford Escort. But with a young family in tow, Richards' sensible side once again kicked in and he turned his attention to his business interests. In 1984, Richards created Prodrive to run the newly formed Rothmans Porsche Rally Team.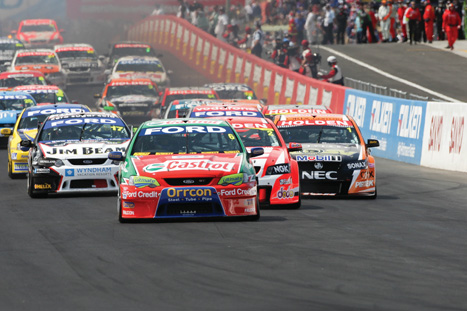 Today, Banbury-based Prodrive operates in four countries, with sales of more than £100m annually. More than half of its business is in developing niche cars and technology for road vehicles. However, the company remains firmly rooted in motor racing and has big plans for the upcoming World Rally Championship. In July last year, the group announced that it will be introducing Mini as a contender to the series and Richards is excited by what has taken place in preparation.
'I'd be surprised if anyone else has designed a rally car, or for that matter a touring car on this basis before,' he said. 'What happens conventionally in production-based car racing is you sit down with a car, analyse the regulations and work around the product. We took a year and designed the generic rally car from scratch. The engineers queried us right from the outset, saying: "This is pointless, give us a car and we'll just design it." I said: "No - I want you to take the regulations and design what the ultimate car would be according to those regulations." And they did that.'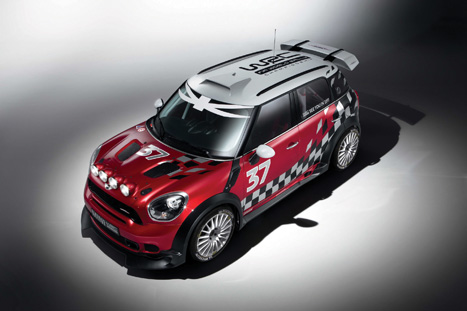 What Prodrive ended up with was a concept that fitted the Mini design. Whenever a compromise had to be reached, Richards claims his engineers had a much better idea of how to improve the car elsewhere to gain the winning edge. It's this innovative approach that Kuwaiti financers Investment Dar and Adeem Investment hope Richards will bring to Aston Martin. The brand was bought by Richards and his consortium in 2007 for £479m. Get him on the subject and Richards becomes serious.
'So far it's been very different from what I anticipated. When we took on Aston Martin, it was a year before the worst part of the recession. We perhaps didn't react fast enough to the circumstances then and didn't realise how difficult things would be. If I look back now and consider how we came through it, I'm very proud of everybody. I think we can now look forward to a period where sales will improve.' Richards has taken on a huge task. But with his mix of caution, skill and daring, he could be just the man for the job.
'We'll see,' he said with cautious optimism. 'Motor racing and the mainstream automotive sector would do well to learn from each other.'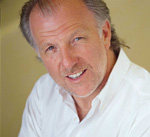 David Richards - Biography
Chairman and chief executive, Prodrive; chairman, Aston Martin
Education
Attended Bryn Hyffryd school in Ruthin, Denbighshire, before training as a chartered accountant
Career
1974 Wins first national rally championship co-driving for Tony Drummond
1981 Wins World Rally Championship, co-driving for Ari Vatanen
1984 Founds Prodrive
1989 Signs Subaru World Rally Team deal
1990 Subaru World Rally Team wins both World Drivers' and Constructors' championships
1999 Sells 49 per cent of Prodrive to Apax Partners, raising £50m
2001 Brought in to manage struggling BAR Formula One (F1) team
2005 Was made a Commander of the British Empire for his services to motor sport
2006 Announces intention to launch Prodrive F1 team
2007 Buys Aston Martin from Ford for £479m
Q&A - Motoring ahead
What is the main crossover between motor racing and the mainstream automotive world?
The crossover is the people. We learnt a long time ago that the actual skills required for the mainstream industry are very different from producing an F1, rally car or a touring car. In that narrow little world people think that's not quite the case, but I can assure you that it is. What we'd like to capture is the culture of the business, the 'make it happen' philosophy of a motor-racing team that doesn't know any boundaries and that pushes absolutely everything to the limit. We want to apply that sort of purpose to mainstream automotive projects.
How has the Le Mans series adapted to the green agenda?
Well, it now caters for a whole range of technologies. I would suggest to you that the fact that Le Mans introduced diesel as a category, and that Audi took up that mantle and promoted it very extensively, winning Le Mans nine times in 10 years, has been a great influencer of people's opinions on performance diesel engines. If you'd said 10 years ago you'd have a sports car with a diesel engine, people would have laughed. Not anymore. To my mind, Le Mans has been an influencer of people. I'm sure Audi will tell you the technology in its mainstream cars is also very close - I doubt that personally.
Has the government done enough to promote motor sport?
I don't think the government has done an awful lot in the automotive industry if I'm honest about it. In this country, the major circuit - Silverstone - is owned by a private members club, and investment in the sport hasn't generally stayed in the sport. As a result, the industry as a whole has been self-sufficient and not required government interference. I think, in many ways, government interference in sport is probably undesirable anyway, although I would like to see more tax breaks.
Do you think more young people are becoming interested in engineering as a result of motor sport?
Yes, motor sport has played a very important role in doing that over the last decade. I have a young son, as well as my older two, going through sixth form at the moment, and it's interesting to see how the environment has had such an impact on youngsters. I think getting that motivation to go in that direction is a starting point, and then fulfilling those ambitions with the right courses is the next stage. Many engineering courses have now managed to tag on a motor sport element to them. The truth is the courses are no different to the courses 10 years ago. They just have another angle to them that is a bit more interesting and gets people motivated.
Do you have any plans to re-enter Prodrive in F1?
I keep an open mind with it all the time. It's not uppermost on my priority list - my priority is on the Mini World Rally Championship programme and on Le Mans for Aston Martin. But if the right opportunity presented itself then there is little doubt that we would go and do it.