As the largest company in the world, Royal Dutch Shell should be well placed to deal with the challenges facing the energy industry. Earlier this year, however, the oil giant provoked criticism when it announced it would cut all new investment in wind, hydrogen and solar energy projects.
Gerald Schotman, who joined the group as chief technology officer in the wake of the backlash, has since undertaken a strategy to address what governments are increasingly terming a 'global energy crisis'.
With the weight of environmental campaigners and company shareholders on his shoulders, the laid-back Dutchman appears undeterred by the challenges his new role presents. 'At the end of the day, the reality of life is that you always have to think from a personal perspective,' he said. 'There's no technology that you want to develop without the customer in mind.'
This focus has been a key part of Shell's triple-billion-figure revenues and an underlying reason for conflict with 'green' campaigners. However, Schotman argues that an impending peak oil situation means the environmental agenda and customer needs will no longer be incompatible.
'When we look at the energy world, the key dominating trends everyone is working with are that the world needs more and more energy at a pace that continues to be very steep and that energy must be cleaner,' he said. 'To fill these demands, I think that there is not only a place but also a role, an absolute necessity, for the whole variety of energy sources we can think of.'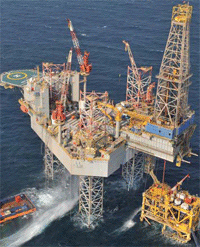 A demand for clean energy from a senior oil industry executive is a welcome sign, but Schotman's views will be worrying for those who claim that ambitious renewables targets are the planet's final, fading hope. Some of the figures being discussed ahead of next month's Copenhagen summit are, he claims, unachievable. 'You need to be a big optimist in order to believe that the industry can pull all that together to really deliver those targets,' said Schotman. 'I believe the technology we are developing in the area of fossil fuels will give us more time to develop renewable and cleaner energy sources before we reach a peak oil situation.'
Last year, Shell increased its investment in research and development to $1.3bn (£800m). Much of this was in the area of biofuels, gas-to-liquids technology and methods for sourcing fuel from existing and untapped reserves. Schotman hopes to continue work on the current portfolio while preparing for a push towards higher-risk, more dramatic technological developments.
'Whether we like it or not, the tension is going to force us to do more difficult and extreme things, which will require a very strong technology agenda,' he said.
Deep-water drilling is one area in which these extreme techniques have already become evident. The drive to find oil in deeper waters has led Shell to develop subsea pumping techniques and robotic devices that can install and maintain superstructures in increasingly harsh conditions.
he group is currently involved in its Perdido platform in the Gulf of Mexico, which is expected to be world's deepest drilling site when completed next year.
'What we always say is you have to go deeper and lighter,' said Schotman. 'This is about making things robust, simple and light using special material choices and handling the effects that come with very deep-water conditions. The challenges in this are huge and will increase as the lack of oil drives us to look to even deeper and harsher waters.'
Another key area in his technology portfolio is the development of tight gas reservoirs where the low porosity of the rocks means that gas is more difficult to extract. This also means that conventional data-collection methods are unable to accurately determine whether an area is worth drilling due to the density of rock.
To overcome this, Shell is using a technique called underbalanced drilling (UBD). This lowers the pressure of the drilling fluid column so that the wellbore pressure is less than that of the area being drilled. The pressure caused by this pushes hydrocarbons into the wellbore and up to the surface. According to the company, the technique is able to provide accurate reservoir characterisation.
Combined with work in chemical and thermal enhanced oil recovery (EOR) techniques, Schotman believes these technologies could help to meet the surge in energy demand.
While recognising the importance of renewables in the world's future energy agenda, he rules out any immediate return to new wind, hydrogen and solar energy projects. 'I'm a big believer in always asking: am I going to make a difference?' said Schotman. 'Am I really going to be leading? When it comes down to it, we are a business and not a government, so the shareholders do expect adequate returns from us and we recognise that others may be in a better position to move things forward.'
He is keen to cite the group's position as the largest buyer and blender of crop-based biofuels. Despite concerns over the environmental impact of food crop production for biofuels, Schotman sees it as playing a key role in the future of the energy industry and believes continued investment in this area will allow the fuels to become cleaner and more widely available.
'Biofuels are an important part of our agenda, but are not we fixed on any one technology,' he said. 'I believe a long-term view of the industry is difficult to predict. What is certain is that, in the next five to 15 years, once we get through the recession, we are going to be amazed how rapidly the energy world will change.'
Gerald Schotman
Biography
Chief technology officer, Shell

Education
1984 Graduated from Delft University with Civil Engineering degree
1984-85 Researcher at Delft University
Career
1985 Offshore research engineer, Shell
1991 Structural design engineer, Brunei Shell Petroleum1995 Planning and Economics, Shell Expro (UK)
1997 Project manager, Brent Depressurisation Part 4,Shell Expro (UK)2001 Strategy and planning manager, Petroleum Development Oman
2002 Engineering manager for South Oman, Petroleum Development Oman
2004 Functional director of engineering and operations, Petroleum Development Oman
2006 Vice-president of strategy and portfolio, Shell International Exploration and Production
Q&A Increasing Oil Recovery Rates
How much oil do you think we can recover from fields that were previously thought to be finished?
At the moment, the global oil industry is typically recovering around 35 per cent of the oil in its fields. What this means is that the industry is only able to produce one out of every three barrels of potential oil. The other two are either too difficult to access or too expensive to extract. I think, with the increasing use of techniques such as thermal, chemical or miscible gas injection, we could recover 20 billion to 30 billion barrels of oil for every one per cent increase in oil recovery.
How significant are EOR techniques in Shell's technology portfolio?
It is important to realise that EOR is among one of the more expensive ways to develop a field, so how important it will ultimately be in our portfolio will be very much driven by future oil prices. At the same time, we recognise that it has huge potential and are pursuing a number of different streams for EOR.
Which of these streamsdo you think is the most promising?
I think an exciting area of development at the moment is around thermal solutions, particularly when you have viscous oils that are not too deep. Heating the reservoir by steam is usually a very good way to make the oil less viscous and to be able to produce it. Typically, we inject
steam into dedicated wells to reach the bottom end of the reservoir below the oil. We either do this constantly by opening and closing wells over
several months, through what we call a 'huff-and-puff'-type mechanism, or through continuous injection using dedicated steam wells.
What have been the results?
The results have been very promising. One which I'm personally very proud of coming from that area of the Netherlands is a project we currently
have in the far north in Schoonebeek. At this oil field, we had always anticipated getting a recovery of around 18 per cent. When we considered it was no longer possible to economically and technically extract more oil, we closed the field down. However, we've recently reopened it as a result of thermal recovery and we are about to start producing again. We expect something like 14,000 barrels a day from the field over the next 20 years.
Is this a trend you expect to see throughout the oil industry?
Yes. This is not just part of Shell's agenda, but also a global industry challenge. Think about Saudi Arabia, which is blessed with huge reservoirs — one well produces between 30,000 and 40,000 barrels a day easily. It's a country that shouldn't be bothered about EOR because it has many years to go with simple recovery. But recently, it announced that it is going to test an EOR scheme. Other big companies are also thinking about what's next. So its a big prize and a big agenda in the industry. I think it is only a matter of time before we are able to tap much larger reserves than were previously possible.