There are many debates about the fundamentals of engineering. Are they a sound basis in mathematics and physics? Are they an understanding of the properties of materials and how they can be manipulated? Do they depend on studying the needs of society and how technology can meet them?
But all of these miss the obvious. The fundamentals of engineering - the nuts and bolts, if you like - are nuts and bolts. And screws, clips, nails and every other type of fastening. The whole thing would literally fall apart without them.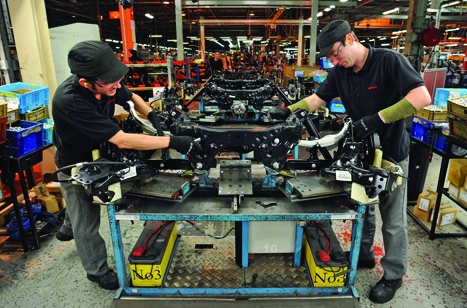 Although ubiquitous, fasteners are often taken for granted or overlooked altogether. Yet the fasteners sector is large, producing more than 100,000 tonnes of product in the UK every year, even though its size has declined steeply over the past 30 years. At one time, the UK was the centre of the world fastenings market; in the 19th and early 20th centuries, companies such as Guest, Keen and Co and Nettlefold and Chamberlain turned out millions upon millions of screws and fastenings from vast factories in the Midlands. Although those names may be unfamiliar now, the initials of Guest, Keen and Nettlefold - once one of the world's largest manufacturing businesses, making its own steel and turning it into products - survive as GKN.
The fundamentals of engineering are nuts and bolts; everything would fall apart without them
The decline since the 1980s, explained Geoff Budd, managing director of TR Fastenings Europe, came about because the manufacture of the bulk of fasteners - the standard-sized generic screws, nuts, bolts, washers and fixings - has moved to lower-cost producers in Asia. 'You can't make money making standard products in Europe anymore,' he said. 'Taiwan is now the world centre for fastening manufacture.'
The producers remaining in the UK are now specialist producers, he added. 'It's like many other branches of engineering, with generic manufacturing going overseas and the more specialised stuff surviving here.'
TR Fastenings, which was formed in the UK in 1973 and operates in Europe, Asia and the Americas, now supplies markets such as aerospace and automotive from its UK facilities. 'Fasteners for homewares and electronics are now all in Asia,' Budd said. 'But one thing that's notable in the UK is that we've noticed a marked increase in demand for fasteners from the automotive sector.'
This, he explained, is because of such flourishing production plants as Nissan in Sunderland and Honda in Swindon. 'It's turned out that Britain is a very good, efficient place to make cars, and that's reflected in a growing supply chain for all sorts of components,' he said. 'We make specialised fastenings for gearboxes and engines and, because these factories operate on a make-to-order, just-in-time basis, we're supplying regularly rather than just in large batches.'
Budd admitted that innovation is not generally high on the agenda for the fastenings sector. Although the materials they are called upon to fix together are subject to constant development, with mass reduction increasingly important in the aerospace and automotive sectors, there has not been much call for companies such as TR to reduce the weight of their components or to use different materials. 'The new development is mainly in the aerospace sector,' he said.
There are exceptions to this, however. One example is where materials have to comply with legislation concerning the recyclability of materials. Specialist fastener maker EJOT produces a stainless steel screw that incorporates a carbon-steel drill bit on its tip, so it can make its own hole and fix materials together with a single action. However, the fastener needs to be coated, both for aesthetic reasons - the production process discolours the steel - and for function. The coating helps to reduce friction as the fastener drills and fixes, and prevents corrosion of the drill point and at the junction of the new materials. EJOT uses a zinc-nickel coating, and had to take the material through a year-long certification process to ensure that it met German federal emission control laws.
But as Budd said, it's the aerospace sector that is driving fastener development. One project where this can be seen is in Boeing's new airliner, the 787 Dreamliner. Containing a far greater proportion of composites than any previous passenger aircraft - in its wings, fuselage and even landing gear - the Dreamliner needed new types of fasteners, and in large quantities.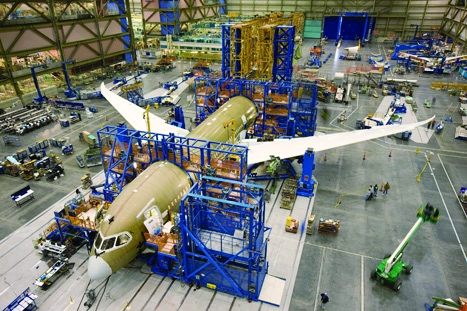 Aluminium specialist Alcoa is providing a new type of fastener to Boeing known as Ergo-Tech. Made from alloys of aluminium and titanium, the fasteners can fix composite to composite, composite to metal and metal to metal.
Ergo-Tech is a 'blind' fastener, meaning that it is applied from one side of the workpiece rather than both, like a nut and bolt. It requires low torque for installation, which reduces the strain on installers and the possibility of fatigue in tooling. It also makes it more compatible with robotic installers, reducing the time and the cost for the user.
Difficulties and shortages of fasteners caused serious delays to the Dreamliner's development programme; during the early stages of development, up to 5,000 fasteners per aircraft had to be replaced owing to problems with their installation. These problems were partly due to burring on the titanium components the fasteners were joining and partly due to varying sizes of fastener that had been supplied because of shortages.
Sectoroutlook
A recent report from Freedonia Group has revealed the current state of the world fasteners market and its potential for growth
The world fasteners sector is to grow by some 8.5 per cent annually to 2014, according to market analysts at the Freedonia Group. Strongest sales increases will be in the Asia-Pacific region, driven by growth in the motor vehicles and durable goods manufacturing sectors.
The world fasteners sector is worth some $53.6bn (£33.2bn) annually, according to Freedonia's latest report; the European Industrial Fasteners Institute estimates the European sector to be worth some $14bn (£8.7bn). Some 56 per cent of the market is exterior-threaded products, with interior-threaded at 20 per cent, clips and plastic fasteners at 18 per cent and rivets and washers at six per cent.
In Europe, competition in the fasteners sector remains tough, explained Susanne Rauberger, director of the recent Fasteners Fair in Hannover. Strong industry production - notably in Germany - is keeping the sector buoyant.
Expanding capabilities
West Special Fasteners has added 5,000ft2 to its premises, expanding its capability to supply special fasteners and opening up new employment possibilities. It has also opened a precision CNC machining centre, equipped with machinery from Mori Seiki, Nakamura Tome, STAR Sliding Head, Leadwell and Colchester, which will add the capabilities to CNC turn, mill, screw, drill, slot and socket specialised fasteners and will also provide in-house positive material identification testing. www.westspecialfasteners.co.uk
Latest latch
Protex Fasteners has introduced its highest-performance latch to date, the 490-9000 range, codenamed 'Big Bertha'. Designed for applications such as earthmoving, mining equipment, aggregate conveyors, agricultural plant and off-highway vehicles, it is made from zinc-plated mild steel and achieves an ultimate tensile strength of 7,000kgf. www.protex.com