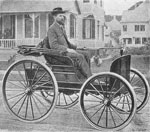 The great horseless carriage race of 1895 set the stage for the introduction of the motor car in the US. Organised by the Times-Herald newspaper of Chicago, it was hailed as the defining race to prove the viability of mechanical transport.
But as The Engineer reported, the competition got off to a shaky start. It was due to run on 2 November, however, only two entries were ready to compete and a decision was taken to postpone the race until later that month.
The gasoline tanks carry a supply sufficient for a 150-mile run
Entrants H Mueller and CE Duryea were nevertheless determined to run on the original date and arrangements were made for the two cars to race head to head on the 92-mile road track from Chicago city to Waukegan and back.
The H Mueller entry was a four-wheel open carriage. It ran on a 3hp Benz gas engine, consuming around one pint of gasoline per hour. The rear wheels were driven from the motor shaft by a chain-and-sprocket wheel on the carriage axel.
The Duryea motor carriage is a four-wheel buggy, seating two persons, and has ball bearings for the axles and rubber tires on the wheel,' according to The Engineer. 'The gasoline tanks carry a supply sufficient for [a 150-mile] run and can be recharged in five minutes.'
H Mueller made the run in nine hours 20 minutes averaging a speed of 10mph, with a maximum speed of 12mph. The Duryea motor carriage, however, encountered some problems and was finally run off the road by an approaching wagon.