From the invention of the mid-engine single-seater in the 1960s to the creation of Cosworth's DFV engine a decade later, the UK has always been a world leader in motorsport. The industry boasts an intoxicating mix of speed, precision and beautiful design – and for engineers looking to transfer their skills, there has never been a better time to join.
Described by some as the jewel in the crown of British engineering, the sector currently employs more than 50,000 people in the UK, and generates a total of £11bn of sales each year. Around 4,500 firms are actively involved in the UK's motorsport and high-performance engineering industry, and 87 per cent export their products or services.
For these figures to grow, however, the industry must stay relevant. That means embracing low-carbon technologies that are a far cry from the gas-guzzling glory days of racing. In recent years, the industry has had a makeover, placing a greater focus on efficiency and 'green' technologies that can be transferred to road cars. The Formula E series, for example, is the first full electric-powered race series, while Formula One and Le Mans prototype cars have been using hybrid systems for years, requiring a whole new set of skills.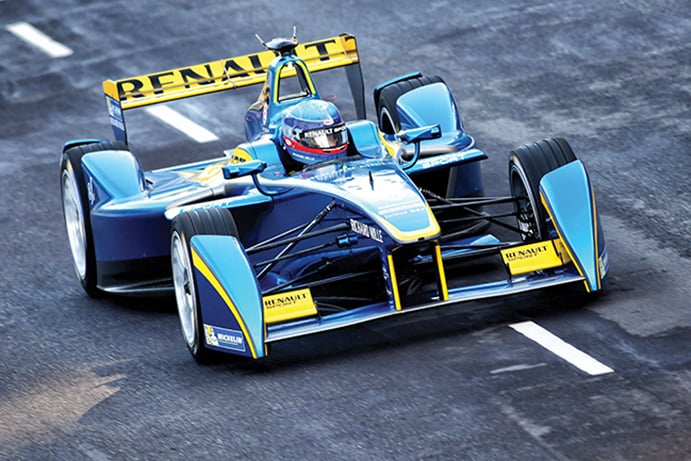 Motorsport companies are now looking to recruit engineers from other sectors to help them move towards this low-carbon future. "The hunger driving new technologies such as autonomous vehicles, energy capture and re-generation, and the need to attract a younger audience through new communication pathways, is driving the industry to look outside at other successful sectors such as gaming, software, simulation and IT," said Chris Aylett, chief executive of the Motorsport
Industry Association (MIA).
Shaun Clayton, Prodrive's human resource manager, agrees that, given the scale of the challenge, help is needed from non-traditional sectors. "Motorsport can often be the proving ground for technologies, while teams are always looking for new ideas that can give them an edge over the competition," he said. "At Prodrive, while motorsport experience is undoubtedly very helpful, we are always looking for people in other sectors that can bring a different perspective and give us that competitive edge.
"We also have an Advanced Technology division where we use our motorsport approach to develop innovative technologies for clients in the automotive, aerospace, marine and renewable energy sectors. Here we are always looking for engineers who can bring skills from other industry sectors to work on projects as varied as the Land Rover BAR America's Cup yacht to the latest hybrid vehicles and vehicle interior systems."
Not for the faint-hearted
The challenge isn't for the faint-heated. A Formula One (F1) car moves from idea through to completion within just 24 months. It uses more than 11,000 parts – 80 per cent of which will be redesigned during the course of a season. To produce such a large turnover, Clayton said that there are two key qualities that an engineer from outside the industry can bring to motorsport. First, there are the direct technical skills learnt from developing what are the highest-performance vehicles in the world. The second quality is what Clayton described as "the motorsport approach to working".
"In motorsport we are used to working to short timescales and unmoveable deadlines – a race starts when it starts and if you are not ready you miss it – there is no opportunity to push back a launch date," he said. "This mindset and approach is increasingly something that many businesses in the automotive and aerospace approach us for and something they want to instil into their own teams of engineers."
For more than 50 years, the UK has been responsible for more motorsport innovations than any other country. And now, given its focus on a low-carbon future, chances to innovate are even greater. For instance, Le Mans has an entry called 'Garage  56' in which a team can throw out standard regulations and create a concept car using new, innovative technologies. Deltawing is perhaps the most famous of the entries for its energy-efficient design that looks like a cross between a fighter jet and the Batmobile.
Innovations from designing winning cars are also used in other industries. For example, the healthcare industry is using some of the lessons learned by McLaren Applied Technologies (MAT) in F1. Meanwhile, Williams has taken motorsport expertise in energy-efficient technologies into sectors such as public transport.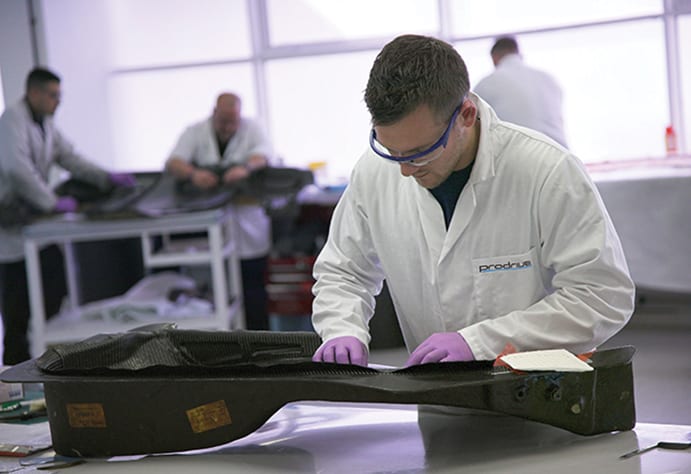 For engineers with a talent, skills and the right attitude, opportunities exist across a range of specialisms. "There is a real shortage of skilled, experienced engineers within the industry at present and there is an opportunity for new blood," said Aylett. "Unfortunately, the new blood
rarely comes suitably equipped with the vital practical, 'hand' skills essential to employers.
"The industry is taking on apprentices, students from university technical colleges and universities to develop their workforce. Motorsport companies are always looking for the next idea, spending 25 per cent of their turnover in research and development. Design engineers, composites, simulation engineers, powertrain engineers and HV battery specialists are in demand to name a few."
Most of the jobs exist in an area known as Motorsport Valley. This describes an area around 80 miles wide stretching from the south west of Birmingham through Northamptonshire and Oxfordshire. However, many firms also operate from elsewhere in the country such as London, East Anglia and Leeds.
"Automotive is very different to motorsport," said Aylett. "Motorsport demands a passion and commitment seldom seen in other industries. The problems experienced at this week's Grand Prix will be solved before next week's event, to be replaced by yet more problems demanding speedy resolution. Time management is an essential skill that simply complements the problem-solving capacity and capability demanded of the competitive racing environment.
"No race was ever delayed waiting for a car to be readied."