A new era is opening for the nuclear power industry in the UK. Last July's parliamentary ratification of the National Policy Statements for energy confirmed plans for a new generation of nuclear power stations.
Under the streamlined planning process for major infrastructure projects, the first of a series of nuclear power stations - Hinkley Point C - could be under construction as soon as next year and fully operational six years later. Three consortia, EDF Energy-Centrica, Horizon and NuGen, plan a total of six stations by 2027.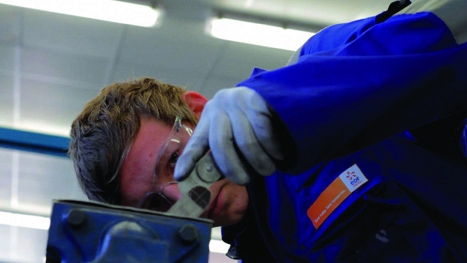 This is a huge source of optimism for an industry that employs 60,000 people directly, with thousands more in its supply chain, but which without new-build was predicted to shrink by half by 2025. Instead, the new-build programme is expected to create up to 30,000 jobs - 5,000 at each site - over the 15 years of construction.
The programme will require skills in design, planning, project management and safety case development; construction and civil engineering; the full range of nuclear and non-nuclear manufacturing engineering for the reactor and generation equipment; and day-to-day operation and maintenance.
But how well is the industry placed to cope with its first new-build programme since Sizewell B, which began generating in 1995? Will it be able to meet demand for the skills needed?
With a relatively high average age among the industry's most experienced staff, the need to attract new blood into the industry is made more acute.
Ged Mason, chief executive officer of Morson Group, parent company of technical recruitment specialist Morson International, said: 'Looking to the future, there is likely to be a skills shortage - it will not be as pressing in civils as in mechanical and electrical engineering.' It will be met, he predicted, in a number of ways: recruitment of graduates; more collaborative working in the supply chain; initiatives from sector skills bodies; and some recruitment from overseas.
Aware of the potential problem, the industry has adopted a number of initiatives to address it. 'A lot is being done now to try to turn that around,' said Nuclear Industry Association (NIA) spokesman Alastair Evans.
For example, by the early 2000s only a handful of universities were offering nuclear engineering courses. In 2004, the Nuclear Technology Education Consortium identified that, with new-build on the horizon, the number graduating was not sufficient. The industry engaged with academia to address this, with the result that there are now 11 universities offering either masters degrees or undergraduate modules in nuclear engineering and technology, while two Manchester University programmes are turning out around 20 PhDs annually. 'We're emphasising that the nuclear sector can provide a career for life for people leaving university now, which is not the norm any more,' said Evans.
EDF Energy, promoter of Hinkley Point C, has been particularly active. It has set up a £3.5m nuclear academy in Gloucestershire, which trains 2,500 people annually at all levels up to graduate - ranging from in-house training for existing employees to introductory training for engineers at the beginning of their careers.
"The new-build project is expected to create up to 30,000 jobs - 5,000 at each site - over the 15 years of construction"
The company is looking to recruit 80 nuclear science and engineering graduates this autumn. Entrants spend a year on the company's graduate scheme, during which they are based at one station, but are also rotated to experience life at two or three others. At the end of the year, there is an opportunity to choose where they want to be based permanently.
In 2008, the company launched its advanced nuclear apprentice scheme. Whereas previously each of its eight stations had run their own scheme, the 'fleet' scheme introduced a common first two years.
This is residential, with the apprentices - aged 16-25 - living at a military base while studying at the marine engineering training establishment HMS Sultan near Gosport. EDF Energy lead apprentice manager Ian Williams said the site was chosen as it could accommodate a residential programme, while having suitable equipment to train on.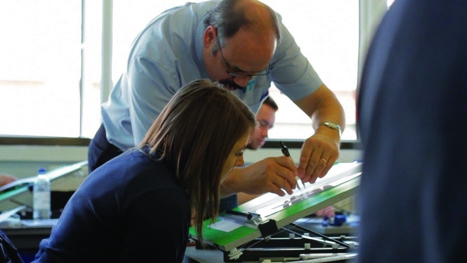 After two years, the apprentices go back to their 'own' power station, completing an NVQ level 3 in mechanical or electrical engineering or control and instrumentation.
This year, the scheme has received nearly 2,000 applications for 70 places. With the first intake finishing their apprenticeships in July, Williams said: 'The feedback from the power stations is that the apprentices coming through this scheme are on a different level from what we've ever had before.'
Regarding the new-build programme, the NIA points out that not all the required skills are unique to the industry. Around 80 per cent of the construction of a nuclear power station is standard civil work. But with the potential for work on two or three plants to be going on simultaneously, management needs careful handling. 'Each nuclear station is on a par with the 2012 Olympics,' said Evans. Accordingly, the industry is keeping in close touch with the London 2012 Organising Committee and personnel there, with a view to attracting them across when the Games are over. The first plants will be critical. 'It's very important to get the first one absolutely right. It gives confidence to investors for future build,' he said.
If the programme succeeds, there will also be opportunities elsewhere in the world. 'We're going to see further new-build across Europe, for example in Spain. We think it's very important that UK graduates and UK skilled workers are able to show a successful 10 years of UK nuclear new-build - we could then sell that to Spain or other countries,' he said.
employer focus safe and secure
The Office for Nuclear Regulation is on the hunt for safety inspectors
The Office for Nuclear Regulation (ONR) - the agency of the Health and Safety Executive responsible for safety and security at all civil and defence nuclear sites in the UK - is seeking to recruit up to 40 nuclear safety inspectors this year and a similar number next year. Filling a number of roles from technical assessment to human factors, candidates can look forward to a highly varied career.
The UK has a wide variety of types of nuclear installation, explained Colin Patchett, director of the Civil Nuclear Reactor Programme. 'As the regulator, we work right across the industry and our inspectors work with both civil and defence licensed sites, with different types of reactor, and across all stages of the nuclear cycle - including proposed new-build, operational reactors and decommissioning.'
It's an exciting time to be joining the industry, Patchett said. 'The industry has a window of work until 2025 and beyond, and these vacancies present an opportunity to be not only be part of its revival but also a very important part.' The ONR will have to ensure not only that existing plant continues to operate safely, but also that new plant is built to high standards of safety and reliability.
Ideally, Patchett said, the ONR is looking for people who have experience in the nuclear or other high-hazard industries, and candidates should have a good honours degree and chartered status or equivalent professional qualifications. The roles will be based in Bootle in Merseyside, Cheltenham and London, with opportunities for overseas travel, and will command salaries of up to £74,799 along with training, a civil service pension scheme, flexible working and enhanced annual leave.
employer focus all-inclusive
EDF Energy is looking to recruit across the full spectrum of experience
One of the leading players in the UK's proposed nuclear new-build programme, EDF Energy, is looking to recruit for a range of engineering, project and technical roles across the full spectrum of experience.
'We are passionate about developing people at all levels of the organisation,' said diversity and inclusion manager Caroline Stabb. 'We will be recruiting at various entry points, from apprentices and foundation trainees, through to graduates and career changers, right up to experienced engineers and specialists.'

EDF Energy already operates eight nuclear plants in the UK and has ambitions to build four EPR reactors. Recruits could work in either side of the business and although previous nuclear experience is desirable it isn't necessary. 'We are particularly interested in candidates from other safety-critical, highly regulated industries such as petrochemical, aerospace or parts of the armed forces, whose skills could be relevant to our business and future,' Stabb explained.
EDF Energy is currently the fastest-growing utility company in the UK and is keen to offer its employees the chance to develop with the business. Salaries are reviewed annually, and the company provides a final salary pension along with pensions for dependents and life assurance. Flexible working, maternity and adoption pay and career breaks are also offered. EDF Energy aims to retain the best talent by offering a range of benefits that go beyond material reward.
employer focus positions in power
Rolls-Royce is seeking engineers for facilities in Derbyshire and Cheshire
While best known for power systems for aero engines, Rolls-Royce is also a major player in the nuclear sector - designing, manufacturing and maintaining components and systems for civil reactors in the UK and around the world and producing nuclear reactor power plants for the UK's submarine fleet.
During 2012, Rolls-Royce is looking to recruit a range of engineers to work at its facilities in Derbyshire and Cheshire.
The company is looking for skilled engineers in the areas of mechanical design, thermo-fluids, safety consultants and safety case authors, control and instrumentation, materials, service engineers, manufacturing engineers, project engineers and physicists.
Rolls-Royce is looking for recruits who relish the opportunity to be part of the nuclear industry at this exciting time. The breadth and depth of work in which the company is involved provides the opportunity to work across the nuclear sector, from reactor concept design though to supporting existing technology in civil and defence spheres.
Rolls-Royce offers competitive salaries, a defined-contribution pension scheme, cash bonuses and share schemes and discounted medical insurance.