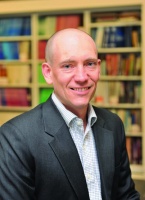 You can tell you're in an engineering practice as soon as you step into Arup's offices. Of course, the meticulous model of the streetscape around St Paul's Cathedral and the pictures of bridges and buildings, all cool geometry and shining materials, are good clues, but what really gives it away are the lifts. Rather than just an up or down button, the control panels ask you which floor you want when you call the lift. When it arrives, the floor panel in front of the doors lights up.
'It makes complete sense,' said Peter Young, UK head of the civil engineering firm's Advanced Technology and Research (AT+R) division. 'The lift system can plan when it sends the lifts down and makes sure the floor visits are planned out in the optimum order, so nobody waits longer than required.'
It's the sort of oblique-thinking attention to detail that Arup likes to project into the world, and Young, whose shaven head and measured way of speaking give him the stripped-down aspect of many of the company's trademark structures, carries through that impression. A specialist in analysing and countering vibration in structures, Young's early work with Arup included working on the scheme to dampen the infamous 'wobble' in London's Millennium Bridge, the pedestrian river crossing linking St Paul's with Tate Modern. Since then he's worked on many vibration-damping systems, for buildings in earthquake zones and for tall structures vulnerable to the buffeting of the wind.
One such structure is the Air Force Memorial in Washington, DC: three slim, curved steel spires, the tallest more than 80m high, which contain vibration dampers made from heavy lead balls within steel boxes. 'When the wind blows, the balls bash against the wall of the box and dissipate the vibration energy,' Young said. The key to the design was the relative size of the balls and boxes. 'It's a very simple concept, based on Newton's Law of Restitution; and it's completely maintenance free and invisible.'
But Young's work within AT+R takes in a wide variety of other engineering sectors as well. Arup covers a surprising variety of areas: as well as the civil engineering the firm is well known for, it also looks at such subjects as the packaging and transport of nuclear waste; the structural integrity of oil rigs and other offshore structures; and is developing a presence looking at the infrastructure surrounding electric cars.
The AT+R department exists mainly to supply specialist services to the other parts of the business, Young explained. 'We hold the seismic specialists and wind specialists for the firm, as not everyone who does bridges and buildings can maintain a niche specialism in these areas,' he said. 'We also offer those services to external clients.'
External work was in fact the origin of the department, when the Central Electricity Generating Board turned to Arup to investigate the integrity of the containers used to carry nuclear waste to Sellafield in the mid-1980s. 'They were worried about the integrity in a worst-case scenario, which would be if it fell off a lorry onto a train track and a diesel loco smashed into it,' Young said. 'That's a very non-linear event: the steel flask would deform way beyond its normal shape and then recover back. We were asked to do an extensive analysis to predict the behaviour of the flask, which we did and predicted it wouldn't rupture. They then did a full-scale test and we were right.'
Arup's engineers spend time thinking about where technology could push society, and vice-versa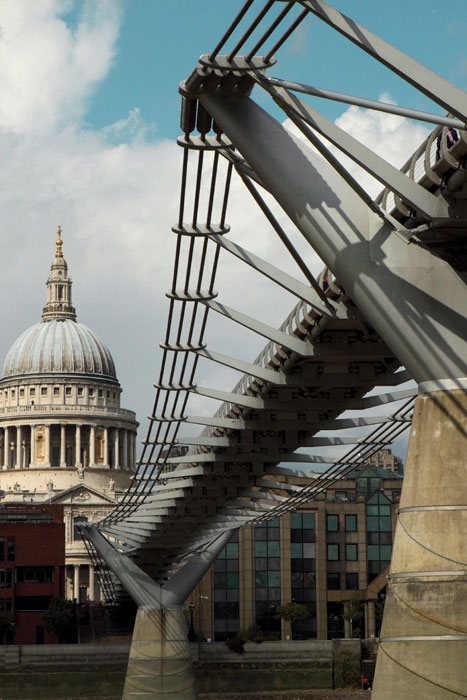 This expertise in non-linear analysis was carried into the automotive sector to predict the response of new car chassis and bodies to crash tests. 'If you can simulate the crash and feed it into the design process, it takes a lot of time off the development process and saves money on repeated testing,' Young said. The same non-linear analysis systems were used to simulate concrete subsea structures, and soon came to the attention of civil engineers in Japan trying to design complex buildings in an earthquake-prone region. 'People there are very open to using technology to demonstrate the performance of structures,' he said. 'We did some work with the Osaka International Conference Centre, theToyota Stadium and Maison Hermès in Tokyo, which has a unique seismic solution with columns that lift off the ground.'
Arup's corporate structure encourages the development of new specialisms, such as the group looking at electric cars. 'Arup is owned, more or less, by its employees, so we're not driven solely by shareholder value,' Young said. 'We seek to do interesting work, not necessarily bottom-line driven, but by doing new things: staying at the technological leading edge and investing in that.'
Arup's engineers spend time thinking about where technology could push society, and vice-versa. 'The way something such as our electric vehicle business comes into being is that one person thinks it's a good idea, it'll be big in a few years time; we then discuss it and see how much it'll cost to develop that capability and we'll invest in developing that. Inevitably, they're driven by the passion and enthusiasm of people, rather than the business driving it.'
The fact that this happens within a company that is capable of designing, building and delivering complex engineering is a distinct advantage. 'We have expertise everywhere. We have people who understand power transmission, we have metallurgists and we have all kinds of technical specialists. We have a strong knowledge management system that allows people to understand and access that knowledge. Plus there's a culture of willingness to share that expertise. If someone were working on electric cars and needed to know how the Grid operates, for example, it would be easy to find them, chat to them and get them involved in the project.'
Peter Young biography
Head of Arup Advanced Technology and Research (AT+R) in the UK
Education
1996 MEng in Engineering Science, University of Oxford
2008 MBA, INSEAD
Career
1996-2003 Engineer with Arup's Advanced Technology Group in London, including two years working on the Millennium Bridge
2003-2004 Logistician with Médecins Sans Frontières at a 100-bed hospital in Sierra Leone. Responsibilities included water and sanitation, equipment supply and maintenance, HR management and liaison with local authorities.
2004-2007 Structural dynamics specialist and team leader with Arup's Advanced Technology and Research group in the Midlands. Projects included the Taichung Metropolitan Opera House
2008 MBA at INSEAD. Awarded a Sainsbury Management Fellows' Bursary
2009-present Leader of Arup Advanced Technology and Research practice in the UK. AT+R is a group of about 100 engineers providing specialist consultancy services, including design advice and engineering analysis
Q&A Learning by example
There's been some criticism of engineering degree courses, specifically that they don't educate engineers to be creative. What's your opinion?
I went to Oxford and my degree was maths heavy: I spent a lot of time deriving things from first principles and never saw a building code or any other kind of code for four years. But we've taken in graduates from many styles of degree. We have people from very vocational courses. Let's be honest: you employ an individual, not a style of degree.
Did you benefit from the theory-heavy Oxbridge approach?
I valued that vigorous mathematical approach: it taught me a structured way of thinking. I can count on one hand the number of times I've solved a differential equation in the workplace, and when I've done it, it's been for my own gratification, to remind myself that I can. If I see an equation I know where it's come from. Therefore, I trust it and know its limitations. I have to say, I enjoy maths.
But I also have an MBA, which teaches you a different structured way of thinking. It teaches you how to read a cash flow, how to look at a set of financial statements, which you're never really going to do in the workplace, unless you're an accountant. But I understand assets and liabilities and I can formulate a business problem. The thing is, the content of the engineering degree and the MBA really aren't immediately relevant to the job you do, in my opinion. It's the confidence they give you that's important.
So is there any argument for changing engineering courses to attract people into the profession?
I believe we should do everything we can to bring young and talented engineers into the industry. If you want creative engineers — which we do you have to demonstrate the role of creativity in engineering. You have to put a component of that into the degree.
How do you develop young engineers within AT+R?
We aren't a 'silo-ed' company we encourage collaborative working with people coming up through the system. The idea is that they know people in all the different departments, they'll have worked with them on different projects. We're in the consulting part of the firm, so we offer services to all the other parts of the company, but unless you've worked in the different areas, you can't understand what they need when they come to you with a job. So during the four or five years while a young engineer is going for chartered status, they'll spend a year or so with each group. They might not work on a glamorous building project, but they'll understand the process and what the engineer's role within that is.
How do you find your recruits?
We have a graduate recruitment process, and some people will say during that process that they're specifically interested in AT+R. Some will be selected by our recruitment team going through CVs. Others will approach people they've seen addressing a conference or giving a presentation. We also have good links with several universities that give us tip-offs about talented people coming up through departments. We have a great diversity of recruitment routes.