Tom Wilcock
Senior engineering consultant, Arup Advanced Technology and Research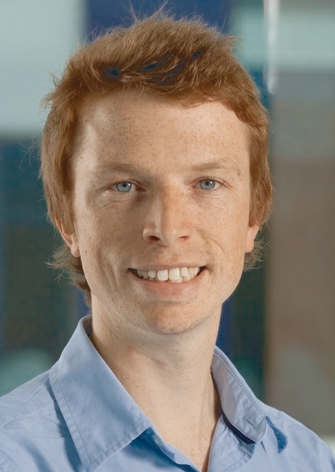 Education
2006 MEng Engineering, University of Cambridge
Career
Tom has worked at Arup throughout his career. He has worked on projects including Torre Ejecutiva in Mexico City, Adihe City in Verona, analysis of vibration for a rugby stadium in Dublin, foundatiom design for Aquamarine Power's Oyster wave energy device, and post-tsunami reconstruction in Sri Lanka.
New Civil Engineer/Association for Consultancy and Engineering Young Consultant Engineer 2013
Engineering can be a difficult subject to get your head around, even for those within the sector. It covers such a dizzying range of subjects, sectors and job functions, some of which seem to have little or no common ground between them. How much more difficult must it be, therefore, for students and teachers who want to understand what the discipline involves, and how they might find their way into it?
For Tom Wilcock, who at 29 has been named Young Consultant of the Year by New Civil Engineer and the Association for Consultancy and Engineering, it was a matter of finding out for himself. Wilcock is now a member of Arup's Advanced Technology and Research (AT&R) Division, but his association with Arup goes back much further. 'When I was 15 or 16, I was trying to decide whether I wanted to do architecture or engineering at university, as I had to decide which A-levels to take and the requirements were different,' he said. 'At the time, I knew quite a lot about what architects do, but I knew a lot less about the engineering environment and what that involved. So I spent a week doing work experience at Arup, working with one of the engineers in the London office, and that helped me to understand the role that engineers play in helping buildings come to life, but just as important was seeing the passion involved in that process, for what they did and the role they play in society. That triggered my imagination.'
"When you later dig into the technical and academic aspects of the profession, understanding the application of the tools you're learning about is incredibly valuable
Having decided to go down the engineering route, Wilcock returned to Arup in his post-school gap year on the company's Pre-University Training Scheme, one of a range of schemes run within the sector to place prospective students into real jobs to give them an understanding of what it is to be a professional engineer. 'It was a pre-requisite for the scheme that I was going to study an appropriate engineering degree,' he explained. 'It's a great way to give you the context for engineering. When you later dig into the technical and academic aspects of the profession, understanding the application of the tools you're learning about is incredibly valuable. It makes what can sometimes be an abstract subject in the lecture theatre into something very tangible.'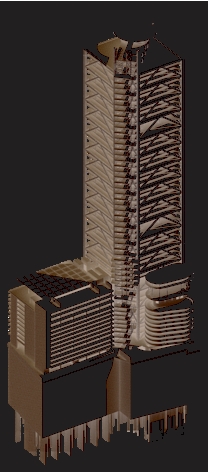 Wilcock worked within AT&R during his pre-university year and applied to rejoin it once he'd graduated. Part of the reason, he said, was the spread of projects that the division works on. 'In this group, we apply first-principle problem-solving approaches, which is when you go back to the pure maths and physics of the problems, to deliver simple solutions to complex new problems. It isn't sector-specific. It's one of the things that attracted me to engineering in the first place and it still excites me now.'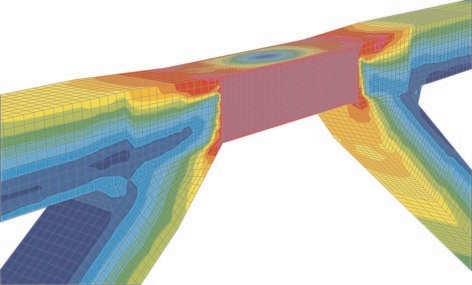 Two projects in particular illustrate the breadth of the toolkit Wilcock currently works with; they are both in the built environment, but at diametrically opposed ends of the scale. In one, he led the design of a structure to support the Torre Ejecutiva, a 52-storey tower in Mexico City. The region is highly seismic and the city itself is founded on an ancient lake-bed with very soft soil; when earthquakes occur, this soft base means that buildings can experience very high accelerations. Wilcock used software that was originally developed to understand nuclear explosions to analyse the forces that could act on the tower; Arup has been bringing this system into the built environment over the past 30 years, he said.
'We ended up designing a very novel lateral resistance system,' he said. 'It's an externally braced megaframe that sits outside the tower. It has a steel element in it that
is like an electric fuse; in an earthquake it attracts damage and dissipates energy through plastic deformation of the steel, so all the damage occurs there and not in the rest of the building. Then it can be replaced.'
But Wilcock has also used this tool to study the performance of buildings made using a traditional technique that has been used for millennia in rural Pakistan, using mud, bricks, timber and stone. 'Sometimes these buildings stand up to earthquakes very well and sometimes they don't,' he explained. 'There isn't any engineering or physics evidence as to why that's the case. The UN is interested in this technique but in order for them to advocate it, it's important that there's a good understanding of how it works and how it can be designed to behave well.'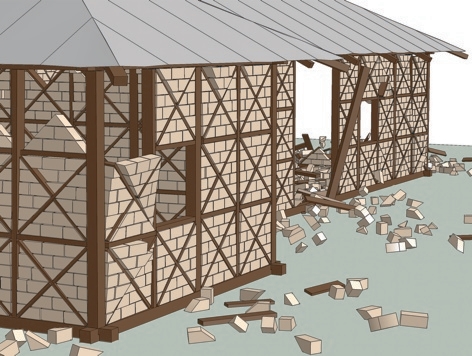 The project applied Arup's very high-tech analysis tools to this very low-tech technique. 'We've found ways to use the timber connections, metal strapping and the amount of load on the roof to start developing recommendations on how people can build structures as safe as possible, using techniques that they understand and have been already using for many years.'
"This is a profession that does not have bounds in the application of the skills and methods it teaches. That's a message that we, as engineers, have to deliver.'
This type of work illustrates what Wilcock believes to be the most important contribution that engineers can make. 'There are many challenges in the world at the moment, from climate change to disparities in terms of living conditions and wealth, which are going to require problem-solvers with a very diverse range of backgrounds,' he said. 'When you dig into these problems, you find that access to infrastructure has a very large influence on improving living standards. I feel that it's not always clear to people who are otherwise very aware of these problems that engineers can play an important role in solving them.'
Young people tend to have a good understanding of such issues, Wilcock said, and showing how engineers can help with them might be an important way to attract them into the profession. 'When you think about engineers, you shouldn't just think about the design of bridges in the UK or design of aerospace systems. There are very real roles that engineers can play in tackling these global problems and that's an exciting message. This is a profession that does not have bounds in the application of the skills and methods it teaches. That's a message that we, as engineers, have to deliver.'
Like many in the profession, Wilcock thinks that not enough is being done to communicate this message. 'I feel that we, as engineers, bear the responsibility ourselves to go out and demonstrate what we do and the value of what we do. I'm less concerned about things like protection of titles and more about demonstrating that value, and there needs
to be more engagement with other strands of society to do that, especially with policy makers. We have an opportunity to get our message out there for the benefit of many people. But we haven't yet obtained traction for that message.'