The abundant usefulness of plastic is tempered by the legacy it leaves when humans have no more use for it.
The material endures because it is durable, lightweight and low cost; factors that go some way to explaining how global production has increased from 1.5 million tonnes per year in 1950 to 245 million tonnes in 2008.
This upward trend is expected to continue, as will the issue of how to deal with waste.
Swindon-based Recycling Technologies maintain that in the EU, more than 47 million tons of waste plastic is produced each year with 13 per cent recycled and 18 per cent processed in Energy from Waste (EfW) plants.
The remainder — including 2.4 million tons per annum from Britain — goes to landfill either here or abroad, which incurs fiscal and carbon costs for transportation.
According to Waste Watch, discarded plastic packaging alone in Britain makes up around seven per cent by weight of the average household's waste.
The organisation adds that plastic household waste generated annually is estimated to be nearly three million tonnes, 1.4 million of which is made up of waste from mixed plastic packaging (MPW).
Mixed plastic excludes plastic bottles and non-packaging items but does include all non-bottle plastic packaging sourced from the domestic waste stream, and it covers rigid and flexible plastic items of various polymer types and colours that are typically found in the household waste bin.
The ubiquitous material has one serious flaw, however, in that most types of MPW cannot be recycled so is disposed of by incineration or sent to landfill.
Adrian Haworth, sales and marketing director of Recycling Technologies, said that industry has been looking at ways to recycle or recover energy from waste plastics for many years and that the need has been expedited with legislation, plus taxes to discourage landfill and encourage recycling.
Plastics Europe, the association of plastics manufacturers, is pushing for a cessation of landfilling for recyclable and high-calorific waste by 2020, with the latter issue seen as a measure to reduce the consumption of virgin fossil fuel.
This is backed up by Howarth, who said that the environmental impact of plastics in landfill are currently unknown but are under investigation. 
'The issue is how much degrades to methane and over what time frame,' he said. 'This is also greatly influenced by exposure to ultra-violet light. There are also significant issues associated with the degradation of plastics in the oceans contaminating marine life.'
The implementation of EfW facilities is by no means a 'silver bullet' solution to the issue of unrecyclable plastic waste with high calorific content. As Peter Jones OBE, advisor to the board at Recycling Technologies notes: 'Countries that have invested in EfW typically also have district heating systems, allowing the heat produced during the electricity generation to be used efficiently.
"The key to increasing the capacity of EfW facilities in countries that do not have district heating may be to make much smaller systems.

Peter Jones
'This makes the EfW plant efficient and contributes to providing a meaningful payback on the capital asset. Countries that do not already have district heating systems installed find that achieving healthy financial returns on the capital involved in large EfW plant is much more difficult to achieve. The key to increasing the capacity of EfW facilities in countries that do not have district heating may be to make much smaller systems.'
Haworth concurred that EfW plants tend to be large and are extremely costly with many held up due to planning constraints and uncertain economics. Recycling Technologies, however, is developing a solution to MPW that is relatively low cost, flexible and is designed to turn waste plastic into a valuable commodity.
'Our competitors have a business model to build large-scale several million pound central facilities, similar to EfW plants,' he said. 'Recycling Technologies is focused on developing modular and small-scale plants that can be installed quickly at waste producing sites. This keeps the initial capital cost low, allows the process to be scaled up gradually, takes the process to waste avoiding transportation of waste and reduces issues with planning and environmental permitting.'
The WarwickFBR process at Recycling Technologies shreds and dries MPW, then injects blended product into a fluidised bed where the long hydrocarbon chains in the polymers are broken down by pyrolysis to form an energy rich gas. This gas is then filtered to remove contamination, cooled and condensed to provide a product dubbed PlaxOil.
A 7,000-tonne WarwickFBR machine can process 7,000 tonnes of Mixed Waste plastic per year into approximately 5,200 tonnes of PlaxOil, which Haworth said is similar to slack wax. 
'We are further developing product ranges equivalent to clean low sulphur fuel oils,' he said, adding that the process will be variable from 500–600˚C and controlled to match the feedstock and output specification required, both of which can be varied.
'Each unit costs in the region of £3.5m depending on the amount of pre-treatment the feedstock requires and with a typical operating and maintenance cost — not including feedstock fees — of £500,000,' he said. 'It has always been the focus of Recycling Technologies to have modular, skid-mounted, small-scale units. The footprint of a 7,000-tonne WarwickFBR unit is kept within three 40-foot ISO frames, which has the following benefits: quick installation; minimised environmental permitting and planning; standardised transportation; installation at the site where plastic waste is generated; and distribution where the feedstock exists.
'On-site installation is within a week, assuming the base is laid and a standard gas, electricity and water connection is available. The unit starts within three hours, as soon as the fluidised beds are at temperature.'
The resulting PlaxOil would be suitable for re-entering a refinery where it can be turned back into a chemical feedstock for polymers or other organic molecules, or lubricating oil.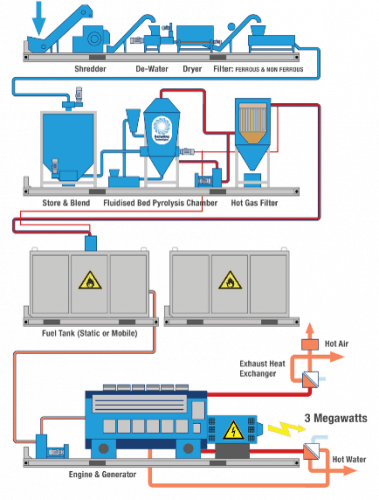 The WarwickFBR also presents compelling environmental credentials, with Haworth stating that the Well-to-Tank estimate for PlaxOil is 7g CO2e/MJ, which is significantly lower than average of estimates for international crude oil at 15g CO2e/MJ.

"Beyond reducing the level of current plastic waste disposal we eventually envisage being able to make commercial sense of cleaning up the plastics already deposited on land and in the oceans

Adrian Haworth, Recycling Technologies
Businesses that utilise the machine can expect payback on a 7,000-tonne unit in less than two years, assuming current gate fees and oil prices. Furthermore, each unit has a 20-year design life and Recycling Technologies will provide a long-term service contract if not fully operated by the company, which was originally spun-out from Warwick University.
'As WarwickFBR is a combination of well-established technologies such as size reduction, pyrolysis, heat exchangers, knockout pots and so on, the requirement for maintenance will be standard to any typical process,' said Haworth. 'We anticipate the machine to operate around 7,000 hours in a year with the remaining time for maintenance and repairs. To support our customers, Recycling Technologies offers an option for a maintenance contract where all machine maintenance and shutdowns is done by us.'
The company has so far received inquiries from potential overseas customers, something that Haworth has attributed to WarwickFBR's capacity to solve two major environmental issues, such as reducing the impacts of waste plastic disposal and continued use of virgin oil.
'Beyond reducing the level of current plastic waste disposal we eventually envisage being able to make commercial sense of cleaning up the plastics already deposited on land and in the oceans,' Haworth concluded.
Recycling Technologies has recently received investment from EcoMachines Incubator, a seed fund and accelerator for start-ups in the energy and resource efficiency sector.
EcoMachines was joined in the investment round by business angels with experience in the energy and waste industry.
Ilian Iliev, CEO of EcoMachines said: 'Plastic is one of humanity's most useful inventions, yet plastic waste is one of today's major environmental pollution problems.'
'We will be working with the company to help it access target markets and scale its waste-to-oil model in the UK and beyond.'