This is the assessment of Adrian Haworth, sales and marketing director of Recycling Technologies, a company that has developed WarwickFBR, a recycling system that converts mixed plastic waste (MPW) into PlaxOil, a heavy fuel alternative that that can be sold or used in localised on demand combined heat and power (CHP) plants.
Haworth explained that the PlaxOil is produced by its WarwickFBR system following pyrolysis of MPW.
To do this, the system first shreds and dries the MPW. It then injects blended product into a fluidised bed where the long hydrocarbon chains in the polymers are broken down by pyrolysis - a multi-step process in which organic materials are decomposed by heat in the absence of oxygen - to form an energy rich gas. This gas is then filtered to remove contamination, cooled and condensed to provide PlaxOil.
According to Recycling Technologies, around 30 million tonnes of plastic waste goes to landfill or incineration in the EU every year because it consists of a mix of polymers, which would have to be separated for conventional recycling.
By putting it through Recycling Technologies' WarwickFBR system, the resulting PlaxOil would be suitable for re-entering a refinery where it can be turned back into a chemical feedstock for polymers or other organic molecules, or a lubricating oil, for example.
'Alternatively, it can be used as a fuel in a diesel engine or in an industrial burner directly from the WarwickFBR,' said Haworth. 'PlaxOil is a very clean, high calorific value, low sulphur, heavy fuel oil.'
He added that being derived from hydrocarbons rather than biomaterial reduces tar and oxygenated acid contamination. Furthermore, because it has been treated at molecular level, PlaxOil is cleaner than most reprocessed oils and options exist for its use once produced.
'Unless a customer specifically wants to use or sell the PlaxOil, Recycling Technologies will, in general, assume responsibility or an off take contract. Benefits for customers will be from the value that can be assigned or reduction in the gate fee for the disposal of MPW,' said Haworth.
Recycling Technologies, originally a spin-out from Warwick University, is building a pilot plant in Swindon where the company conducts R&D and production operations related to the development and manufacture of the of the 7,000 tpa capacity WarwickFBR units.
Haworth explained that the system is designed to directly take in MWP generated from material recycling facilities, paper mills, plastic recyclers etc. without any pre-sorting.
'However, there are limitations on the amount of non-plastic contaminants and plastics containing chlorine (PVC) and fluorine (PTFE) due to the designed dosing capability,' he said. 'However, most waste streams do not have significant quantities of PVC or PTFE. There is also a limit on bio-material to reduce degradation of the PlaxOil.'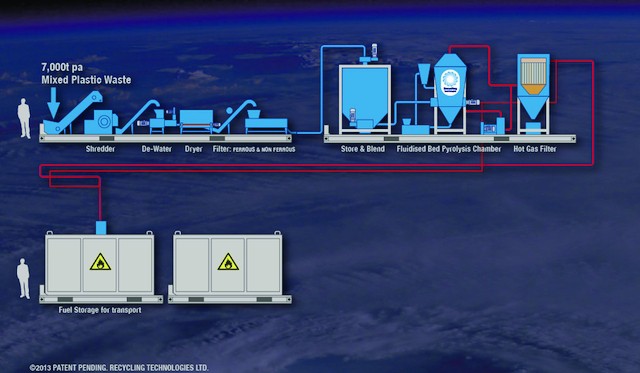 Recycling Technologies has recently received investment from EcoMachines Incubator, a seed fund and accelerator for start-ups in the energy and resource efficiency sector.
EcoMachines was joined in the investment round by business angels with experience in the energy and waste industry.
In a statement, Ilian Iliev, CEO of EcoMachines said: 'Plastic is one of humanity's most useful inventions, yet plastic waste is one of today's major environmental pollution problems.'
'We will be working with the company to help it access target markets and scale its waste-to-oil model in the UK and beyond.'
Recycling Technologies said it is already in advanced discussions with a large number of potential customers and industry partners in the UK and wider markets.