Participants
Nigel Davies BIM consultant; director, Evolve Consultancy

Neil Thompson, delivery manager, Digital Built Britain strategy, InnovateUK and digital transformation team, Civil Engineering and Advanced Technology, Atkins

Richard Petrie, chief executive, BuildingSmart International

Dr Jonathan Ingram, author of BIM systems, developer of Sonata 3D building design software

James Chambers, general manager for US East Coast, Bluebeam

Tristan McDonnell, director for infrastructure, Arup Associates

Sasha Reed, vice-president for strategic development, Bluebeam
Along with most engineering sectors, the civil sector – its oldest, most visible and most traditional part – is increasingly embracing digital methods and tools. For this sector, one of the most important digital tools is Building Information Management (BIM): systems that integrate the drawings of a project (generally these days in 3D CAD modelling format), whether the project be infrastructure or architecture, with the essential information about the subsystems or components specified to make up that project, in a clickable format. For example, click on a window in an architectural plan and the system will display all the specifications of that window in terms of materials, performance parameters, suppliers and so on.
BIM systems allow information to be shared by all the stakeholders in a project, can be updated as more information becomes available, and are becoming increasingly important at all project stages, from initial project planning to construction, execution, commissioning and through to management of the completed asset in operation.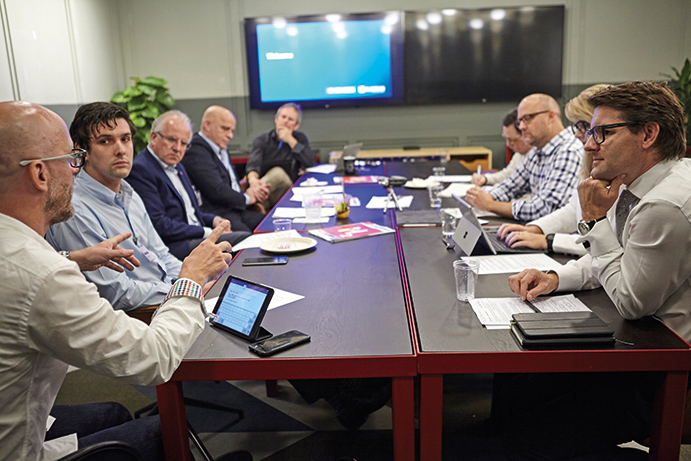 Proponents of BIM argue that it improves project efficiency, cuts the costs of production and the through-life costs of the asset, helps reduce energy use and will be increasingly important in the development of and transition to smart infrastructure and buildings, where sensors are incorporated into structures to enhance their response to changing weather, climate and
for security.
BIM use is backed by the government: all public sector projects have been mandated since last year to use it at level 2 (where all the parties involved in a project use 3D CAD models, with information shared using a common file format such as Industry Foundation Class or IFC, but each party might use its own model), and the Digital Built Britain strategy aims to prepare industry for level 3 (where all the parties use a single shared project model held in a central repository, also known as Open BIM and currently state of the art).
Our roundtable event, sponsored by software company Bluebeam whose products include information-sharing systems, was aimed at discussing the effect that digital tools such as BIM are having on the civil engineering sector, how they are affecting the sector's development and some of the notable examples of best practice in the sector. Participants included BIM users from major players in the sector, government contractors involved with Digital Built Britain, independent consultants and the originator of BIM, Dr Jonathan Ingram, who wrote the first package, Sonata, and its successor, Reflex, in the 1980s and 1990s, and who is still heavily involved in BIM use and development.
Image of civil
The civil sector has at times been unfashionable, but now seems to be enjoying a resurgence of interest from young people attracted by its ability to influence and improve lifestyles and tackle societal issues. Nigel Davies, BIM consultant and director at Evolve Consultancy, recalled an old joke where the Yellow Pages directory contained an entry saying "BORING: see Civil Engineers" and noted that in his family, at least, the games industry was proving more of a draw than the built environment. However, Ingram observed that with increasing emphasis on 3D visualisation, the part of the games sector concerned with graphics is becoming much more involved with civil engineering software.
Davies said that he had noticed a trend where graduates who might have found lucrative positions in finance are instead looking at the built environment. "Software engineers that are coming out of the UCL computer science school, these people get snapped up by banks on six-figure salaries [but] they are turning them down because a lot of them are thinking about the climate, social issues and the effect of poor-quality infrastructure."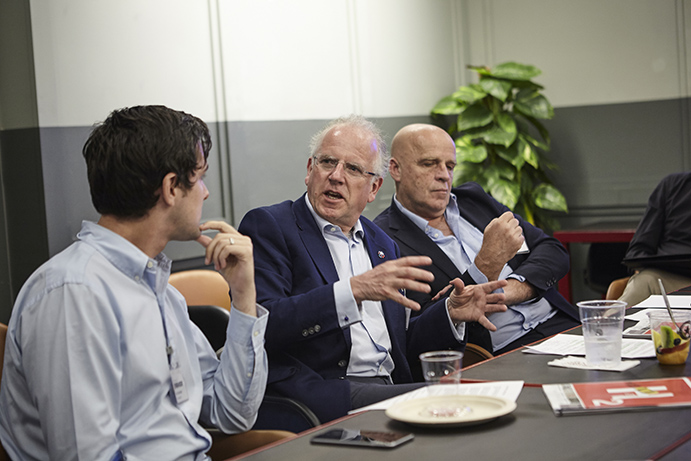 James Chambers, Bluebeam general manager for US East Coast, added that the cutting-edge computer techniques having increasing application in the sector are also attracting interest. "We have seen a lot of the major software manufacturers going to construction management schools and showing the latest technology: augmented reality, virtual reality, and infusing or generating a little bit more excitement into the construction sector," he said. "Go back a few years and who wanted to leave school and go into construction? Nobody, or at least the numbers were not huge. Of course, there are other industries that attract people but it is nice to see that it is changing."
Arup director Tristan McDonnell argued that the concrete nature of civil engineering is part of the attraction. "Surely the appeal for the built environment and, to an extent, for engineering in general is that it is not about virtual reality, it's about reality. In 20 years in the industry what keeps it alive for me is being able to see people enjoy and interact with the stuff that you
had a hand in designing."
Digital tools
So important is BIM becoming to the civil sector that it is sometimes used as a blanket term for all digital tools in the sector.  McDonnell said that he preferred separating out BIM from digital tools, because while BIM is important for certain types of information related directly to projects, it doesn't cover all the tools that the sector uses. "For an organisation such as Arup, which has 13,000 people worldwide, communication comes into it; as to how we share information across the company, across projects, by applying social media-type mechanisms that share information. That's a big part of how we use digital technology."
Neil Thompson pointed out that digital tools are also an important part of finding out how to operate assets in the built environment – something that he claimed government often fails to realise. Aggregation of such information is a sector to itself, he argued. "[The government] realises that it has been buying buildings and putting people in them, and then forgetting that there is another part to that building, and that is all the information that goes with it. Just being able to answer questions about a collection of assets is a difficult thing.  Digitisation is about making the cost of searching for that information much, much lower and improving the quality of the information you find." This is a difficult thing to manage even on the level of a single project or building, he said. "Imagine rolling that all the way up to the portfolio level."
Davies argued that whether we call the industry trend BIM or digitisation,"it is about the portability of information". Digital tools are not new to the sector, he said; they have been around since the 1980s to work on specific aspects of projects, such as engineering design or drafting. "What we haven't had is the joining of the dots between those."
For Richard Petrie, chief executive at BuildingSmart, the focus on tools is itself excessive. "What I see is the need to have open processes that cross your company or portfolio," he said. "Sure, tools enable it, but the bigger part of the problem is getting people to behave to the new processes."
There was general agreement that convincing people to embrace new ways of working when the older ones get the job done can be tricky. "The efficient ways to work in the future are not going to be a copy of the manual way that the process is today," Petrie said. And the challenge is not only solving the digital issues, but solving that human element as well.
Chambers said that engineers have a tendency to work in the silos of their individual projects or areas of expertise. "We're okay [in those silos]," he said. "We're getting what we want done. We are not going to change because what we have had works: printing out drawings, red-lining them, passing them back to the technician to redraft it: we are stuck with that until we can actually find some way of integrating all those processes together."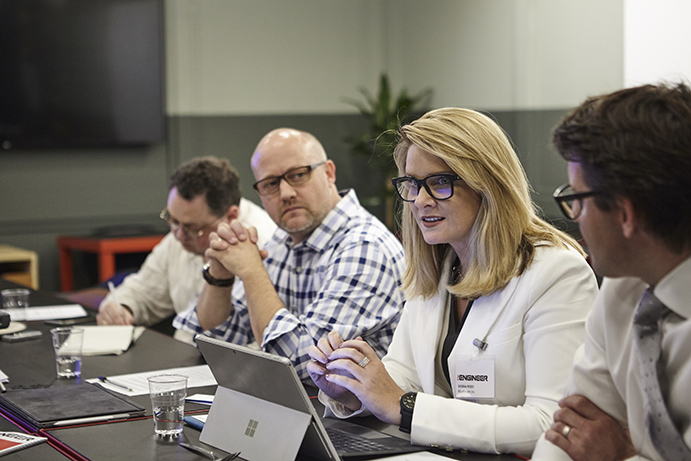 McDonnell added that one aspect of the situation is there is no incentive for companies to use tools like BIM. "We are asking architects and engineers to be authors of information that is beneficial to other people, but not necessarily commercially beneficial for the Arups of this world," he said "Standardisation of information transfer is beneficial to smooth that out,
but what is missing is monetisation of that."
One frustration is that successes often seem invisible, Thompson said. "When it is done well, no one notices. It's only noticed when it is done badly, and that is what creates barriers for us."
Best practice and future
With BIM in use for almost three decades, it is unsurprising that the roundtable participants all held views on how the field has developed and what the best examples of its implementation were.
Ingram was sceptical that it could be called a 'new' technology, and pointed out that some innovations thought of as recent had been incorporated into BIM some years ago. "In 1996, we were using ground-penetrating radar under the Royal Albert Hall, integrated into a BIM system. It is not new, it is old; it just does not change.  We are not taking it forward in the right way," he said.  "The basic principles have not changed in 30 years."
Ingram pointed out that he had worked on a graphical fly-through of a project in 1977 - something that is still seen as advanced in some quarters – and that the rendering, using what was then one of the most powerful computers in the world, had taken nine months. "We rely far too much on, if you like, the artisan sort of project leader to deliver the workface, and far too little on having clearly robust business processes," he said. "That is fundamental to this digital transformation we are trying to drive."
Davies picked out HS2, still in its planning phase, as a good example of BIM best practice. "It's a great example of the planning and prioritisation of the information and how they are looking at it. I'm sure people who are working on HS2 are going, 'My god it is a nightmare,'" he added. Another good example is the Thames Tideway tunnel, sometimes called the 'super-sewer'. It is hoped it will help the London water system cope better with prolonged periods of heavy rain and sudden downpours without activating the overflow system of the Victorian Bazalgette sewers, which results in sewage flowing into the river. "It knuckled down into what were the final deliverables that were needed of every single aspect of every single part of every single drainage and sewer," he said.
McDonnell pointed to one of Arup's current largest projects – the Riyadh Metro. On this project, he explained, the company is using a "BIM maturity measure" to assess how well the system is being applied. "It's a spreadsheet, and you score against certain criteria how the project is performing, so whether it is linking the model to production of drawings, or a BIM execution plan being in place," he explained. "It teaches us lots of things; applying something across a large project realises tremendous benefit."
McDonnell also mentioned an internal research project at Arup known as Project OVE, which aimed to use BIM techniques to model a building-sized representation of the human body (see box, below). "There is a structural fabric to it, there was a mechanical and electrical system to it. It kind of removed the barriers and allowed us to explore and push things to the limit without the constraints that may apply to a real project. Not feeling constrained, feeling empowered to kind of change things in a way that might make a difference, is really important."
Back to real-world projects, Chambers picked out the project to rebuild the Tappan Zee Bridge across the Hudson River in New York State, replacing a 1950s cantilever bridge that was intended to last for only 50 years, with a much more robust double-span, eight-lane cabled-stayed structure. Construction began in 2013, and the bridge is scheduled to open next April.
The lead design subcontractor, HDR, worked with Bluebeam on the communication and collaboration aspects of the project, Chambers said. "They were using part of our suite of real-time document-based collaboration to allow the field crew to communicate with the engineers back in the office." Typically, he said, requests for information, changed orders and other field requests would have been pushed back to end of the working day or week.
"They would turn those conversations round in real time, to have problems resolved instantly. In terms of the timeline savings and the scheduled savings, the logistical cost savings were amazing for a project of that scale." Project engineer Connor Christian from HDR stated that transportation will soon leapfrog the vertical building world in its use of BIM because of its greater need for data management and collaboration, Chambers added.
Listen to the Roundtable participants discuss digital tools and how they can change the industry in this video:
Project OVE
In an attempt to demonstrate the potential of BIM, Ove Arup decided to use it in an ambitious thought-experiment called Project OVE; using BIM to model the functions of a human body.
Being an engineering consultancy, the first stage was to turn the body into an engineered object. After scanning the body of one of its engineers, the project transformed the scan into a plan for a building; a skyscraper standing 170m tall, supported by an internal steel skeleton and an external diagrid, like one of Arup's best-known structures, the 30 St Mary Axe building – better known as the City of London's Gherkin (though 20m shorter). Arup engineers then attempted to mimic human anatomy within the building, using systems from the built environment.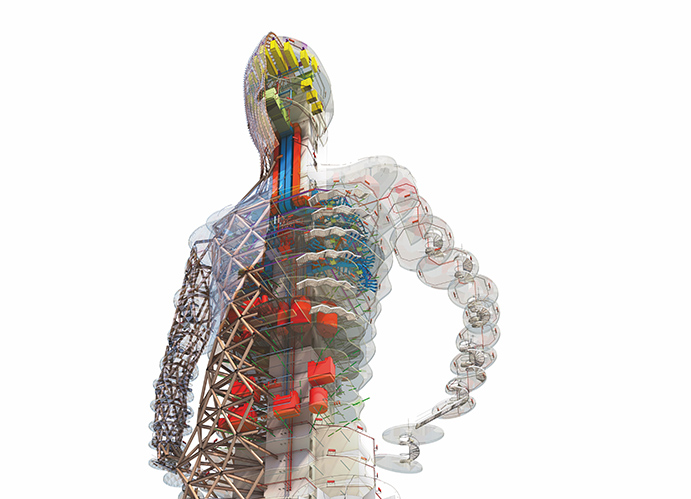 Originally conceived as the subject of a presentation for an Autodesk conference, Project OVE is designed as a skyscraper might be in the real world – the legs contain residential units, the torso office space and observation decks, and the head the boardroom, control centre, security suite and IT data centre.
The heart and circulatory system is the plumbing and associated pumps; the nervous system is the electrics; HVAC represents the lungs and respiratory system, and even the process of sweating is replicated, with fire engineering mapping how smoke would flow around the structure, sprinklers representing sweat, and façade specialists working out how the building's skin would respond to different climates. The building management system is Project OVE's brain, with 360m2 available in the head for data storage, the mouth doubles up as the HVAC air intake and the eyes are the windows of the security suite.
As the height-to-base ratio is much smaller than a real skyscraper, the structural elements of the virtual building mimic how bones, muscles and ligaments work together to support the body in an upright position.
The project was designed to use only processes and systems that could be reused on real projects. As well as engaging engineers around the company in an imaginative and enjoyable project using the tools they work with day-to-day in new and challenging ways, it has also helped develop the tools themselves; for example, it has  been key to developing systems that allow design modifications to be made, analysed, optimised and coordinated with other disciplines in minutes. And by adding intelligence to the mechanical, electrical and plumbing (MEP) system components, the building can calculate required loads, outputs, duct and pipe sizing and acoustic requirements.
Project OVE has provided another real benefit to the company: it can show it to any client to demonstrate how its design tools can enhance a project, useful because real-world engineering projects are often subject to commercial confidentiality.