Labour peer Lord Brennan has particular reason to be thankful for Gordon Brown's choice of cabinet colleagues. When the barrister collapsed in the Lords last November during a debate on the human fertilisation and embryology bill, the prime minister's newly- appointed health minister Prof Ara Darzi sprang into action and performed heart massage until paramedics arrived and took Brennan to hospital.

It was headline-grabbing stuff, and while the first-aid administered by Darzi was a world away from the advanced techniques that the leading surgeon has helped pioneer, the incident helped to underline his credentials as a starring member of Brown's so-called 'government of all talents'.

Head of surgery at Imperial College, and a consultant surgeon at both St Mary's hospital and the Royal Marsden, Darzi is widely regarded as one of the world leaders in the field of minimally invasive, or keyhole, surgery.

A champion of new techniques and technologies, he was notably the first surgeon in the UK to use the Da Vinci robot, a tele-operated machine that allows surgeons to perform procedures with increased precision.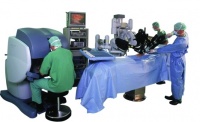 But although he continues to spend around two and half days a week on his clinical and research work, the softly spoken surgeon now has a considerable political duty to add to his commitments — developing a vision for the future of the UK's healthcare system.

Darzi is currently engaged in a year-long review of the NHS and although his final report isn't due out until the summer, it was unsurprising to hear him confirm that 'innovation plays a very important role'.

Talking to The Engineer from a Department of Health office that is, he confessed, considerably larger than his Imperial lab, Darzi indicated that one of the big challenges relating to medical technology is improving the way in which the NHS taps into the UK's rich pool of research activity. 'Some of the evidence from the stakeholders would suggest that the health service is slow in the uptake of innovation,' he said.

In an initial effort to address this, one of his first acts in his new position was to establish a Health Innovation Council, a group including frontline medical staff, research council heads and heads of medical schools that has been given the remit to 'address the issue of uptake of innovation'.

The work of this group will be backed by an injection of £100m, courtesy of a health innovation fund set up jointly by the Department of Health and the Wellcome Trust.

'The whole purpose of the health innovation fund is to stimulate research and development of medical devices technology,' said Darzi, concurring with the Wellcome Trust's view that there is a pressing need for increased dialogue between engineers and clinicians.

But Darzi is keen to stress that technology is only one component of what he terms the 'innovation pathway'. And while he agrees that systems such as the therapeutic ultrasound devices discussed here have great potential, technology will not, he said, be able to fulfil its promise without a significant amount of organisational innovation.

One way he hopes to improve patient access to technology is through the nationwide introduction of polyclinics — super-surgeries where as well as GPs, patients can have access to x-ray and ultrasound machines.

Although critics have voiced concerns that these new clinics will destabilise existing hospital and GP services, the concept is key to Darzi's vision of enabling patients to access treatments through the primary care system that are traditionally available only through a hospital.

'Service redesign is the most important part of the pathway — otherwise technology does not have a role to play,' he said.

Another area of current healthcare policy that has garnered its fair share of critics is the Department of Health's £2.4bn IT project 'Connecting for Health'.

But although the project's detractors claim that it is a colossal waste of money, Darzi is adamant that it's on track to achieve its aim of linking up a health service that is often perceived as being increasingly fragmented.

'I don't believe any investment we've made in information technology is actually a waste of money.' he said. 'I think it's the most important enabler in the system.'

He did, however, agree with some of the comments made by consultants interviewed in this issue's feature, that connecting for health could benefit from greater engagement with clinical staff. 'I think we have the right infrastructure there,' he said. 'What we need to do now is think about how we get nurses and doctors involved at a local level because that is the way in which you bring in IT at the forefront of healthcare delivery.'

Clearly enjoying the challenges of the political world and the opportunity to influence healthcare at the highest level, Darzi is nevertheless at his most enthusiastic and engaging when talking about his own areas of expertise. He recounts with relish his early research into the use of piezoelectric crystals to generate shockwaves for destroying gallstones, and his eyes light up when he turns to the potential of the robotic systems he helped pioneer.

Pointing to the research currently being carried out by Imperial colleague, Prof Guang-Zhong Yang, the next big step for tele-operated systems is, he said, to replace the 2D images that surgeons look at with 3D images augmented with data from magnetic resonance (MR) or computerised tomography (CT) scans. 'this,' said Darzi, 'will allow surgeons to see beyond the surface of the organ they are looking at.'

Looking further into the future, Darzi is particularly excited about the emerging field of intraluminal robotics, and is currently working with £2.1m of Wellcome Trust funding on the development of an advanced tele-operated system which rather than creating incisions uses the body's existing orifices as entry points.

He explained that the system, called i-Snake, will use state-of-the-art imaging and intuitive manipulation technologies to enable surgeons to carry out more complex and demanding procedures within the body. But the i-snake, like many other of the advanced healthcare technologies currently under development in the UK, won't be ready for clinical use for at least three years.

So given that the benefits of such systems won't be felt for a while, and that the shelf-life of politicians can be short, is there a real political will to invest in new technology?

While Darzi's answer to this question is 'yes', he warned against trying to rush technologies through the UK's rigorous evaluation process. Indeed, he suggested that the far wider dissemination of healthcare technology in the US, which doesn't have such strict guidelines, often has more to do with marketing than clinical evidence.

'If there is adequate data to suggest that it's safe, effective and cost-effective, that technology should be disseminated,' he said. 'Patients have a right to that treatment. wearing my scientific hat, I'm the greatest enthusiast when it comes to technology. But wearing my clinical hat, and in my current role, it's important that we prove its safety and effectiveness before we start pushing it. I think if you don't do that, it would be very irresponsible.'