Minimally Invasive (or so called 'keyhole') surgery was one of the great medical advances of the twentieth century, allowing sophisticated surgical operations to be carried out with little trauma. However, there are limits to the types of procedures that can be carried out this way.
Now, a new surgical robot dubbed the 'i-Snake is to be developed to extend the use of this surgical technique. It's developers claim that the i-Snake will allowing surgeons to carry out more complex and demanding procedures within the body, previously only possible using more invasive surgical approaches.
A world renowned team from Imperial College London, has been awarded over £2.1m from the Wellcome Trust to develop the i-Snake over the next four years. The multidisciplinary research team includes Prof Lord Ara Darzi of the Division of Surgery, Oncology, Reproductive Biology and Anaesthetics, one of the UK's leading surgeons in the field of Minimum Invasive Surgery (MIS), and Prof Guang-Zhong Yang who is the Director of Medical Imaging and Robotics at Imperial's Institute of Biomedical Engineering.
Using special motors, multiple sensing mechanisms and imaging tools at its 'head', the flexible i-Snake robot will act as the surgeons' hands and eyes, allowing them to navigate difficult and restrictive regions of the body. Among the many possible applications of i-Snake are the clinical investigation of the alimentary tract, or complex, multi-vessel coronary bypass surgery.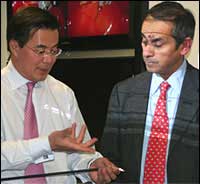 Prof Lord Ara Darzi and Prof Guang-Zhong Yang discuss the endless possibilities for the new snake
'The unrivalled imaging and sensing capabilities coupled with the accessibility and sensitivity of the i-Snake will enable more complex diagnostic and therapeutic procedures than are currently possible. The cost benefits that the i-Snake will introduce include earlier, cheaper and less invasive treatment, faster recovery and procedure times and intangible benefits through an increase in patient care and quality of life,' Lord Darzi said.