It's fair to say the Mini brand has moved on somewhat from Alec Issigonis's iconic 1959 original. The Cooper SE Countryman All4 is a four-wheel-drive hybrid SUV. It has a plug-in capability and a useable electric-only range of up to 25 miles (40km). It also happens to sit on a longer wheelbase than an original Range Rover. Not very 'Mini', you may argue. But, there again, broadening its repertoire has been the key to the brand's long-term success.
Under the skin, the second-generation Countryman uses the BMW Group's UKL2 platform, which is shared with half a dozen other models, including the BMW 2-Series Active Tourer, the BMW X1 and the Mini Clubman estate.
In the case of the Countryman, assembly takes place at the VDL Nedcar factory in the  Netherlands. Prior to Mini's arrival, this was perhaps best known as the home of Dutch carmaker DAF and its somewhat eccentric range of CVT-equipped micro-cars. Today you'll find nothing as unorthodox. The Countryman's 1.5-litre 136bhp three-cylinder turbocharged petrol engine drives the front wheels via a reassuringly conventional six-speed torque converter automatic.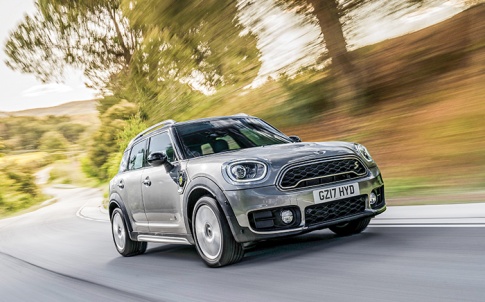 It's at the back where things get interesting. Stashed beneath the boot floor is a 65kW (88bhp) synchronous motor, which drives the rear wheels via a two-stage single-speed transmission. This makes the Countryman a 'through the road' hybrid with no physical link between the two power sources. Combined, they produce up to 224bhp and 385Nm of torque – comfortably more than the equivalent 2-litre petrol Countryman Cooper S.
The 7.6kWh lithium-ion battery pack sits under the rear seats. It has been accommodated by shrinking the fuel tank, which sits next to it, to 36 litres, from 51 litres in the regular petrol model. As a result there's no loss of cabin space; you can still comfortably seat one six-footer behind another. The motor and transmission do swallow up the underfloor storage in the boot but this makes a negligible difference overall. There's still 405 litres of luggage space, which puts it on a par with other premium crossovers, such as the Audi Q2.
You climb into a smart, funky cockpit that's quintessentially Mini, albeit appreciably higher up than those of its hatchback siblings. Prod the Start button and you're greeted by… well, not a great deal. The Countryman defaults to Auto eDrive mode, which prioritises full-electric running at light loads, so we find ourselves trundling out onto the road in what is essentially a rear-wheel-drive electric Mini. Wonder what Issigonis would make of that.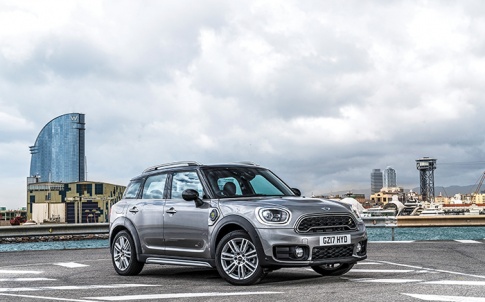 Predictably, it's whisper quiet. There's a touch of wind noise as you start to go quicker but, overall, it has that trademark electric vehicle (EV) serenity. Squeeze the accelerator a little harder and the combustion engine spins seamlessly into life, making the Countryman a deceptively potent performer. It feels every bit as quick as the 6.8-second 0-to-62mph time implies, with a crisp throttle response and an appealing three-cylinder thrum.
There are two other drive modes: Save and Max eDrive. Save reduces the amount of motor assistance and increases the degree of energy harvesting to build up charge for future use. Meanwhile, Max eDrive, as the name implies, uses electric propulsion wherever possible – waking up the combustion engine only under kickdown or if the vehicle speed exceeds 78mph.
Driven in this mode, the Countryman delivers that classic EV trait of instant and formidable torque. The performance does bleed off after the initial surge, but it's enough to make good progress without troubling the combustion engine. (Incidentally, the battery always holds some capacity in reserve. This means that the car retains its four-wheel-drive capability and the full performance potential even when the electric-only range is exhausted.)
The electric drivetrain and its associated paraphernalia add around 190kg, compared to the mass of a Cooper Countryman All4 Auto with the same engine and a mechanical four-wheel-drive system. Drive the plug-in version in a manner wholly unsuited to its school-run remit and you start to sense that extra mass and perhaps a tad more body roll. It still feels nimble and alert by crossover standards, though, with the motor and battery actually helping to even out the front-engined Mini's weight distribution.
We didn't have an opportunity to test the full battery range but, according to the trip computer, we were on course to cover around 18 miles in real-world conditions. That may not sound a lot but it's more than enough for the average UK commute and you still have a petrol engine to banish any range anxiety. Expect around 50mpg in Auto mode (although official figures of 134.5mpg and 49g/km will go a long way with company-car drivers).
Once the battery is spent, it takes around two-and-a-quarter hours to recharge using a high-current wall box (or an hour or so longer on the mains). Save mode also seems to replenish the battery surprisingly quickly during normal driving, but it's those who intend to use the plug-in capability frequently who will benefit most from this concept.
Admittedly, if you are a driver who rarely leaves town, a pure EV like the forthcoming Mini Electric – slated to enter production in Oxford in 2019 – may be a better bet. Likewise, high-mileage motorway users will still be better off with a diesel.
But in between the two a lot of drivers could find themselves warming to the charms of a plug-in hybrid Mini.