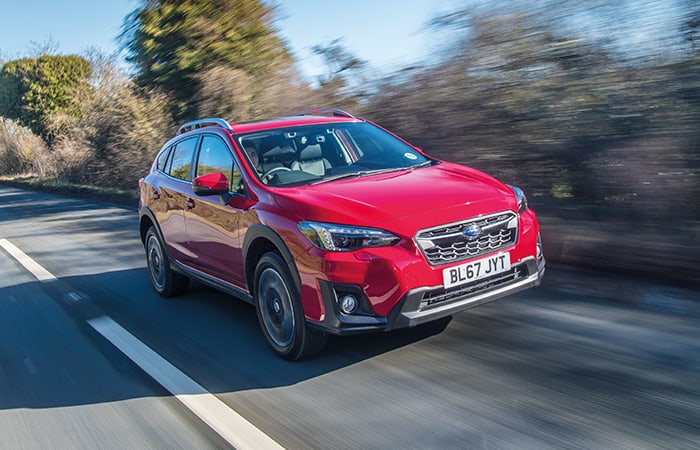 Subaru has always done things a little differently, so while most compact crossovers are essentially front-wheel drive hatchbacks on stilts, it's no surprise that the new XV is made of sterner stuff. It comes with permanent all-wheel drive as standard, plus Subaru's trademark boxer engine configuration – once synonymous with the brand's rallying exploits.
Perhaps less appealing to traditional petrolheads will be the Lineartronic continuously variable transmission (CVT). But this is also something of a Subaru trademark, offered on just about all models in the company's home market. In fact, the option of a manual gearbox was dropped with the launch of the new XV at the beginning of this year. So too was the diesel engine, leaving just the petrol models (in 2-litre 156 PS or 1.6-litre 114 PS form).
Externally, it looks a lot like the old XV. Under the skin, however, this is a clean sheet design; the second to be spun off the new Subaru Global Platform, which reputedly cost the firm over $1bn (£720m) to develop. It's a steel monocoque, using hot press moulding for key areas and featuring a significant percentage of high strength and ultra-high strength materials in its construction.
Improved joining techniques and larger reinforcement channels in the floorpan also help to boost the structure's rigidity, which is now up by 70 per cent in torsion and 90 per cent in lateral bending. These channels have also been designed to provide a smoother load path for crash forces, which has contributed to the XV's best-in-class Euro NCAP safety ratings.
You don't have to crash the XV to feel these benefits, though. Subaru was brave enough to send us out onto a slalom course in the old XV and then back-to-back with the new model. The improvements in structural rigidity and steering precision were palpable, and Subaru claims you can also feel these in more mundane situations, such as while reacting to crosswinds.
The new, stiffer structure is said to better-resist the transfer of sound and vibration, making it a more refined place to spend time. What's more, Subaru points out that the four-cylinder boxer engine configuration has superior secondary balance to a normal inline engine.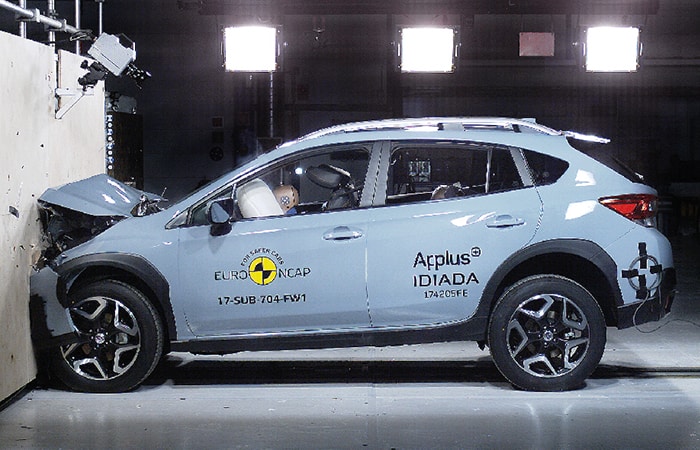 That's as maybe, but the 2-litre naturally aspirated unit still needs to be revved quite hard to make progress. It can feel a tiny bit strained in comparison to the torquey turbocharged opposition (petrol and diesel), not helped by the CVT, which causes the revs to flare as you put your foot down.
To be fair, Subaru's Lineartronic system is smarter than the average CVT.  For a start, it uses a chain rather than a belt. This runs between two hydraulically adjusted pulleys to vary the overall ratio. A hydraulic torque converter is used to couple the engine to the transmission, with a lock-up damper to smooth out any torque fluctuations. The idea behind this two-stage approach is to reduce the lag and surge effects found on traditional CVTs. It is a marked improvement, but it still doesn't feel (or sound) quite as natural as a conventional automatic gearbox.
For keen drivers, Subaru has also included a manual mode, controlled by a pair of steering wheel-mounted paddles. This introduces a series of artificial steps in the transmission ratio, designed to mimic a conventional six-speed gearbox. Again, it works surprisingly well, although the changes are still noticeably slurred and the end result feels like an approximation to a conventional gearbox rather than a true facsimile of one.
Ultimately, the CVT doesn't feel like it adds a great deal. In theory, its ability to hold the engine at an optimal speed and load point should improve both performance and economy. In reality, the 2-litre model's claimed figures of 0-60mph in 10.4 seconds and 40.9mpg won't win you any bragging rights. One of the reasons the brand says it has stuck with the boxer engine is the exceptionally low centre of gravity that comes from arranging the cylinders horizontally about the crankshaft. This helps to make the XV feel very reassuringly car-like to drive, despite its elevated ride height. You'd never quite call it sporty, but it is agile and responsive.
Another unique benefit, we're told, is that the low, flat engine is designed to submarine under the passenger compartment in the event of a major head-on impact. While that's not something we wanted to put to the test, we were encouraged to try our hardest to crash – albeit under controlled conditions on an airfield. It was here that we had a chance to sample Subaru's EyeSight system. This is a suite of six different technologies, so-named because they rely on a pair of windscreen-mounted cameras to give the vehicle stereoscopic vision. The highlights include Pre-Collision Braking, Lane Keep Assist and Pre-Collision Throttle Management.
As the name implies, Pre-Collision Braking will apply the brakes if the driver fails to respond to an audible warning of an upcoming obstacle. Tested at around 20mph, the car came to a full halt several feet ahead of the collapsible target. Meanwhile, the Pre-Collision Throttle Management works on a similar principle from a standing start – not actually applying the brakes this time, but dramatically reducing the vehicle's acceleration if it senses an obstacle. The idea is to give the driver time to react if, for example, they pull away in traffic without realising the car in front has stopped.
None of these functions are revolutionary, but they do work well, and the fact they are all standard fit on the XV – along with a number of other electronic aids – has significantly boosted its safety ratings. Just as importantly, we never encountered any false alarms.
In some respects, however, the XV is at its most impressive off the beaten track. A modest 220mm of ground clearance will ultimately limit its off-road abilities compared to a full-size SUV, but it is remarkably capable for a crossover.
Even on standard road tyres it made light work of conditions that leave most of the opposition stranded. That's particularly true when you bear in mind many of its competitors are sold in front-wheel drive form. Those that do have a four-wheel capability typically only send power to the rear wheels once slip is detected at the front. This can incur a noticeable delay, leading to loss of traction. The Subaru, on the other hand, uses a proper permanent all-wheel drive system, and the CVT transmission means that drive is maintained even while it's changing ratios. The end result is deeply impressive when the going gets tough.
A few idiosyncrasies aside, the Subaru XV does a fine job of blending the capabilities of an SUV with the convenience of a family hatchback. In reality, few will delve into its off-road abilities. So, while the XV's safety credentials and sturdy build quality do add to its appeal, they're unlikely to sway most away from cheaper, more economical and every bit as practical rivals. That's a shame, because the XV is a crossover with real substance to back up its rugged image. And that makes it a bit different.