In an industry that boasts perhaps more living legends than any other, Prof Gordon Murray enjoys a particularly exalted status. The championship-winning F1 cars he designed for Brabham and McLaren have made him one of the most successful engineers in the history of the sport, while his McLaren F1 was the first road car to use a carbon-fibre monocoque and remains the world's fastest naturally aspirated production car.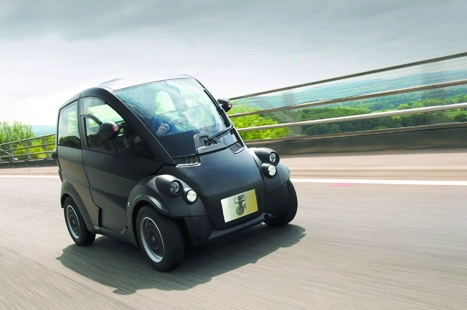 Little wonder then, that when early last year Murray took the wraps off the diminutive T25 city car and announced his intention to revolutionise the world of low-carbon, low-cost vehicles, the wider automotive industry sat up and took notice.
On the surface, the move from designing supercars to super-minis was a startling change of direction. But as Murray recently told The Engineer, it was merely the latest chapter in a career characterised by a restless search for the next tough challenge.
'It's a trait of my character I suppose,' he said. 'I've always liked a new challenge and I get a bit "been there done, that". In 20 years in F1 I won, I think, five championships and more than 50 races, and I thought: if I stay doing this, what am I going to do win six or seven maybe, or maybe not win another one? I was desperate to change.'
This desire to get out of F1 coincided with Ron Dennis's ambitions to expand McLaren beyond being simply a race team and Murray seized the opportunity to head up McLaren Automotive, where he developed the McLaren F1 and the Mercedes-Benz McLaren SLR.
It was while immersed in the world of supercars and the high-value manufacturing techniques they rely on that Murray began to formulate the ideas that would lead him to his current project.
'I'd started looking at why people don't make smaller A-segment and sub-segment cars,' he said. 'You soon find out that [it's because] they don't make money.'
The reason for this, he explained, is the high cost of the stamped-steel processes that dominate the automotive industry. 'Investment in stamped steel is pretty insensitive to the size of a car. All cars have got around 300 stampings. It's just a little bit more steel and slightly bigger tools in a C-segment than an A-segment car, but you're still talking about hundreds of millions of investment for a new platform.'
"It's not a space frame. It's a large-diameter, thinwall low-carbon tube, so it's cheap as chips"
In an effort to address this, Murray drew on his motorsport-derived composite expertise to develop a completely new way of building road cars and left McLaren in 2007 to commercialise the concept through his own company, Gordon Murray Design.
According to Murray, the resulting iStream process requires 80 per cent less capital investment, 60 per cent less energy, a fraction of the space of a conventional factory and could yield cars that are 25 per cent lighter.
iStream (stabilised tube-reinforced exoframe advanced manufacturing) replaces stamped steel with a tubular frame and a composite monocoque. But, instead of the expensive carbon fibre used in top-flight motorsport, the process uses low-cost composite panels reinforced with glass rather than carbon. According to Murray, the set of 11 panels that form the T25's monocoque cost just €107 (£93), and the steel tubes just €70.
At the heart of the technique is a highly innovative approach to load spreading.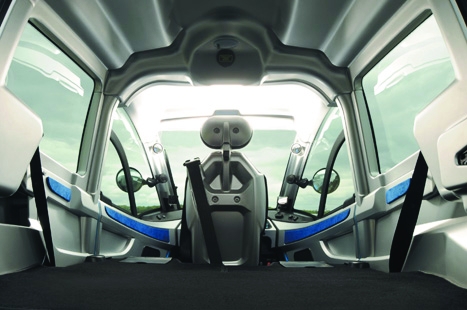 Typically, in F1 or supercar design, inserts are used to take out point loads in composites a time-consuming process that's been one of the major obstacles to using structural composites for high-volume production.
Instead, iStream achieves safety and stiffness by bonding the monocoque to the steel tubular frame. 'When a customer comes along with an architecture for a car, we put all the point loads in a 3D model and join the dots with the world's simplest tubular steel frame,' said Murray. 'It's not a space frame. It's large-diameter, thin-wall, low-carbon tube, so it's cheap as chips. We're not looking for any strength from the tube, we're just carrying the point loads and then transferring them into the monocoque through the adhesive.'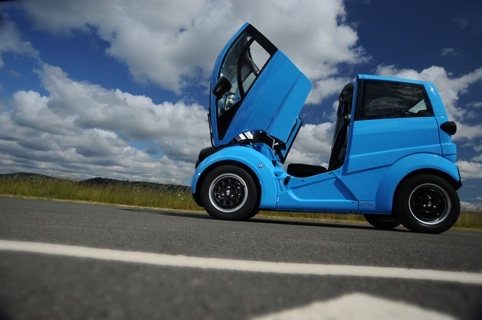 The T25 and T27 are, so far, the most striking demonstrations of what can be achieved using the technology. And although Murray's keen to license the vehicles to manufacturers, he stressed that they are demonstrations of one of many different types of vehicle that could be produced using iStream.
'One of the attributes of iStream is that the frame is identical for different powertrains. We're currently working with six OEMs and four start-ups: the smallest vehicle is a two-seater, two-cylinder petrol car and the biggest is a 13-seater off-road truck with lots in between. The benefits of iStream run through all of those'
Despite a relatively slow start, Murray said he hopes to announce an iStream licence at some point in the next 12 months and believes that the current economic climate makes his approach all the more compelling.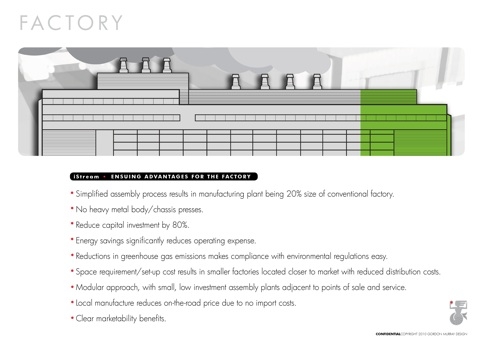 'When we opened this in 2007 before the crash, we didn't expect much interest from the OEMs because of a massive amount of inertia [in industry] and the huge amount of capital investment in stamped steel.'
This, though, has changed. The fickleness of the cash-strapped buying public coupled with uncertainty over the take-up of new powertrain technology is putting manufacturers off investing billions in new platforms.
'You'd be a very brave person to think "we're going to lay down a new platform for petrol and diesel and the payback's seven or eight years and we've got to make £1.5m before we make a profit". No one's that brave anymore. iStream's perfect because we've chopped the investment by 85 per cent and the frame can do virtually any car, powertrain or body style on the same day.
'Looking back, this is a far bigger challenge than winning an F1 championship,' added Murray. 'It's all to do with packaging lightweight, high-strength materials and performance in a different way. The performance targets are reducing emission and fuel consumption, not going 10mph faster at top speed. It's a much harder thing to achieve than going quickly.'
Q&A
Could the growing low-carbon vehicle sector reignite the flow of tech from race to road?
All of our composites expertise comes directly from motorsport so there's a very solid link. The link that's harder to see is the way people solve problems and think in motorsport. If you apply that to this new technology you get places much quicker than an OEM would. What people are impressed with when they come and look around companies such as ours is the problem solving and the direction change we can do. We're very flexible and we get things done on time and on budget because you have no choice in racing. We're about to enter a new industrial revolution. This is the green industrial revolution. What the UK has always been good at is innovation, but we've always been really bad at turning that into manufacturing. I think we've got an opportunity for the first time to convert a lot of that innovation into manufacturing.
What do you think of green racing initiatives?
Green racing initiatives in something such as F1 are a total waste of time. It's a show. The actual amount of energy the F1 circus uses is insignificant. I haven't done the sums but I would bet that 90 per cent of the energy used in F1 is packing up and shipping all the rubbish, spares and hospitality units around the world. If you're trying to sell F1 as a green technology, it's a waste of space if you're using F1 to develop new technologies, that's different.
Can you ever envisage going back into F1?
Never
Why not?
Unfortunately, the F1 rules are written to support the show rather than to support new technologies. If you accept that and I think people have to accept that it's fine, but I'm a bit more of a purist I'm afraid.
What changes would you like to see in F1?
I would like to get rid of all the artificial overtaking technology and introduce overtaking by just opening the regulations in certain areas and restricting them in others. I think it could be done quite easily.
Would you like to revisit supercar design?
I could do that again but I would love to reverse the current trend of chasing hp power and top speed we've been there done that now, I would love to do something that's much more akin to what we would need on today's roads and I'm not talking hybrids and things such as that, I'm talking about something that doesn't concentrate on doing 300mph with 1,000hp.
What blend of technologies will we see on the roads in the future?
The internal combustion engine is here for a long, long time and has a little way to go yet. I think the driver for new technologies such as fuel cells will be the fact that we're getting near the plateau where people are going to be spending a fortune to get the next two or three per cent. It's only when things get expensive that people start concentrating it's always the pocket that counts in the end.
Biography - Prof Gordon Murray
Education
Studied mechanical engineering at Natal Technical College (now Durban University of Technology).
Built and raced his own car, the IGM Ford, in the South African National Class during 1967 and 1968
Career
1969-1986 Joined Brabham as junior designer and appointed chief designer four years later. Between 1973 and 1985 Murray's Brabhams won 22 Grand Prix races and twice came second in the Constructors' Championship

1987-2006 McLaren technical director.

Murray's 1988 Honda-powered McLaren MP4/4 won 15 of the 16 Grands Prix and gave Ayrton Senna his first Drivers' Championship

1988-91 McLaren won four Constructors' and Drivers' Championships

1991-2004, Murray headed up the off-shoot McLaren Cars team to design road-going supercars: the McLaren F1 and the Mercedes-Benz SLR McLaren

2007 Established Gordon Murray Design, developed T25 prototype city car, the T27 electric-powered version and the iStream manufacturing process