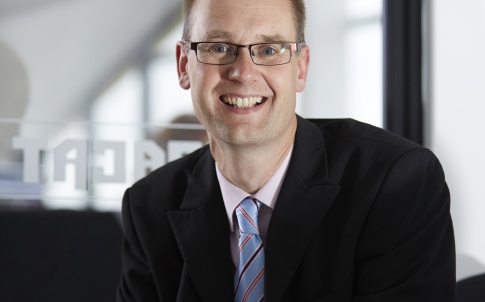 Steve Austen
Chief engineer and engineering director, Supacat
Education
1988-92 MoD Technician Apprenticeship in Naval Architecture at the MoD, Bath, including studying ONC & HNC

1993-99 Mechanical Engineering, MEng, University of the West of England

1992-94 MoD Surface Ship vulnerability – blast, ballistic and shock protection trials, analysis and design, including studying for an HNC in mechanical engineering, design & production

1995-97 MoD Submarine in service support

1999-99 MoD Surface Ship structures standards, design, repair and in service support
Career
1999-2014 Royal National Lifeboat Institution:
2000-2004 Senior Engineer, lifeboat structures & stability, D Class lifeboat project manager

2004-2008 Principal Engineer, lifeboat structures& stability, launch and recovery system design authority, slipway winch and Shannon launch & recovery system project manager

2008-2014 Head of Engineering, responsibility for the design and engineering in service support of the lifeboat fleet, including oversight of the development of the Shannon Class lifeboat and associated launching system
2014 – Chief Engineer & Engineering Director for Supacat Ltd. Engineering responsibility for all Supacat products, including Redfin 1b Special Operations vehicles for the Australian Special Forces, just commencing production
Supacat is among the best-known names in heavy-duty, specialist vehicles. Producing vehicles to protect soldiers on patrol in war zones and huge-wheeled and tracked trucks to plough through mud and sand in some of the most hostile terrains imaginable, the West Country-based company is a respected name in the British engineering industry.
Steve Austen, who took over  as engineering director and chief engineer late last year, joined the company at a time of change. "Historically, the majority of Supacat's turnover came from  the defence sector; when that  was quiet, so was the company," he told The Engineer. "That's meant that the past couple  of years have been pretty tough times." Indeed, its last full set of accounts sees 2013 turnover down 16 per cent at £13.6m, with profits down four per cent at £5m.
As a result of this, the  company has been diversifying. "We're working in renewables, in marine, we continue to work strongly in defence, and we're still working with my previous employer, the Royal National Lifeboat Institution [RNLI]," Austen explained. "We are also looking  at expanding into  new areas, such  as nuclear."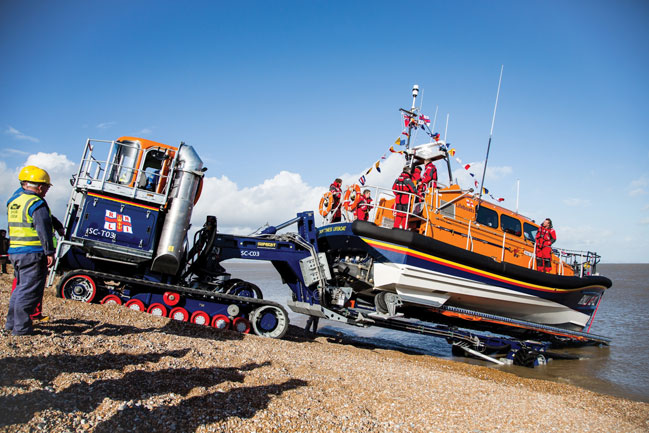 Austen first  worked with Supacat on a project with the RNLI as part of its campaign to design, build and launch a new lifeboat, the Shannon class, as covered in The Engineer. Based on a custom-designed hull and using waterjet propulsion for the first time for the RNLI on a large boat, the Shannon class needed  a new way of launching and being recovered from the water.
"One of my roles as principal engineer for launch and recovery equipment was to project-manage the design and prototyping and introduction into service for  new launch equipment for the Shannon," said Austen, "and when we started the project  back in 2002–03, the original project scope was to develop two systems, one produced  by Supacat and one by another company to get to a point where we could do head-to-head  trials with a prototype lifeboat. That was the beginning of my relationship with the company, working with its design teams  on the prototyping and testing."
Austen's background stands him in good stead for a company looking to move into new areas. While his apprenticeship as a naval architect formed the basis  for his work with the RNLI, his later training in general mechanical engineering gives him the skills for a company that, he said, has more in common with specialist heavy engineering than the niche vehicle sector with which it is most commonly associated. "My appointment certainly strengthens the marine side of Supacat's business, but I'd like to think that my experience and qualifications allow me to lead the team in tracked and military vehicles as well," he said.
Austen added that Supacat's versatility "comes from our ability  to get machinery to work in challenging environments for a demanding customer". He continued: "If you take away  the vehicle bit, that experience is going to serve us well in  a variety of markets," he added.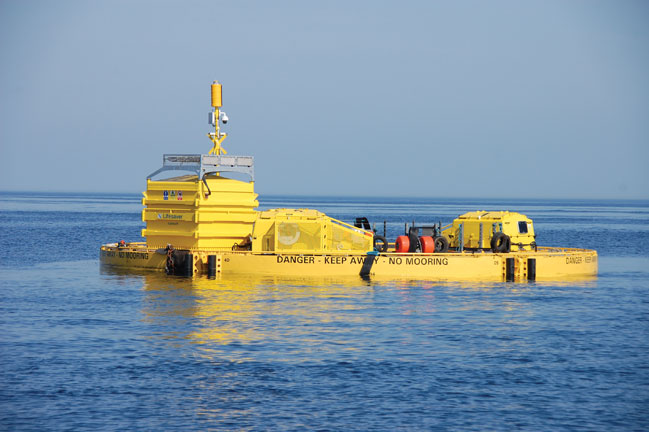 One example of this is the company's recent work with Fred Olsen Renewables, a subsidiary of the Norwegian shipping company, for which Supacat designed and built a wave energy converter called the Bolt Lifesaver. This is  a floating ring structure, which bears around its circumference generators that work via a winch whose line is tethered to the seabed. As the sea heaves and tilts the ring, the winches turn, generating current.
Bolt has now been tested  at two sites around the Cornish coast, and will in the next month or so begin a new trial in the Pacific off Hawaii.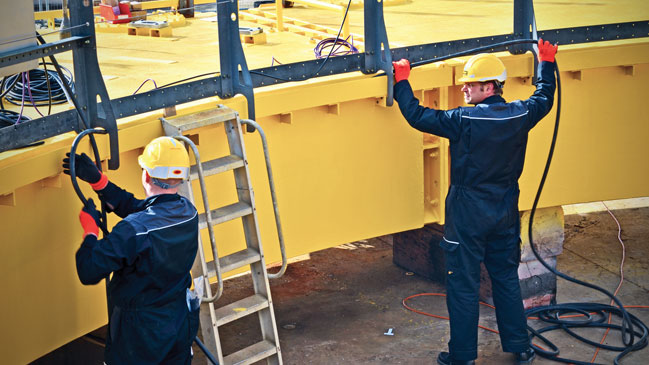 "Bolt isn't a vehicle at all, but  it has a series of winches aboard, so that's our mechanical handling expertise; the steelwork to make it float has come from heavy engineering; making watertight steel boxes came from the work with the RNLI recovery system; the electrical work is a core expertise of ours – we have automotive electrical specialists and general electrical engineers," Austen said. "This ability to take skills we've gained through other projects and apply them in new ways is a core skill of ours and it's something  I'm keen to make more of."
Most of Supacat's manufacturing capability is UK based, although its Australian offices in Melbourne and Sydney form manufacturing partnerships with local engineering companies to make vehicles for the Australian army special forces: the company is soon to start an 89-vehicle run. "We've also made an acquisition in the UK called Black Hill Engineering, which gives us  heavy engineering capability near Exmouth, so we can make pretty large and heavy fabrications there," Austen said.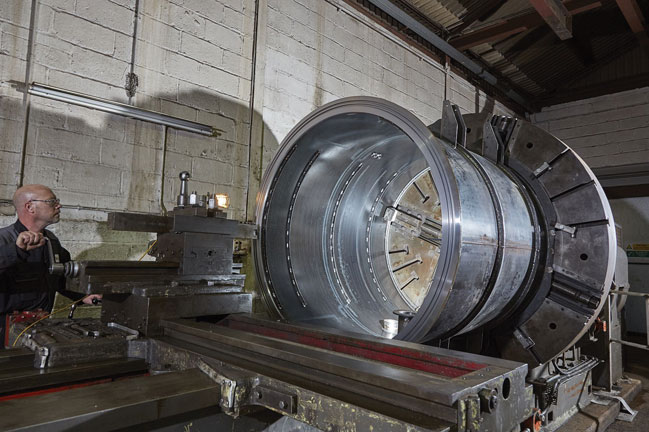 This allows Supacat to bid  for work in its traditional sectors, while also using its own money to develop projects for new niches. "One example of that is SUV,  which is a six-wheeled Land Rover variant designed for emergency services, and that's being used by Ambulance and  Fire Services."
Supacat chose to ride out  the rough economic climate without making job cuts, so it wouldn't have to try to replace lost skills when orders picked up. "We kept our engineering and production teams together in anticipation of this diversified work," Austen explained.
This is now helping with the company's production slate. "We're in the late stages of negotiation with a Scandinavian customer that we hope to bring  to fruition in the next month or so, and that could lead to repeat orders from other countries; there's a smaller special ops project for the MoD as well. Plus there's an invitation to tender from the RNLI for follow-on launch recovery vehicles, so our prospective order book looks pretty healthy."
Austen said that the company's work in renewables and possible expansion into nuclear is the  most exciting part of his new job. "If you look at nuclear, there's certainly a lot of scope in the decommissioning market and getting vehicles to work in that environment, but there are a lot  of other areas and engineering challenges where we could bring our skills to bear, so I can't say it would always be vehicles," he said.
"Anything that allows us to develop new stuff, show what we can do and tackle these challenging environments  is exciting for me."