They are currently concentrating on providing shelter and sanitation after two earthquakes with magnitudes of 7.8 and 7.3 devastated the country on April 25 and May 12 respectively.
Fortuitously, a solar-powered blood bank officially had already opened in Kathmandu just five days before the first quake.
British Red Cross earthquake preparedness logistics manager Ashok Nawani supervised the £250,000 project, working with the Nepal Red Cross.
"My experience with earthquakes is that the first thing to go off is power," he said. "We decided to use a solar system for this blood bank. It is a cheap and economical way using green eco-friendly technology."
The two-storey facility in the suburb of Lalitpur can store 560 litres of blood and is made from shipping containers that have been bolted together. These were thought to be less likely to be damaged by earthquakes compared with brick or concrete buildings.
"We fixed everything to the walls, including the battery banks, the solar power system, solar panels, and the solar fridges that we bought, so that in case of a major earthquake and any shaking nothing would fall to the ground," Nawani told The Engineer.
"We put a lot of thought into how to make it sustainable and how to make it operate in a disaster.
"On the first day when most of the country was out of electricity this structure was one of the only ones that had power, except for those that had back-up systems."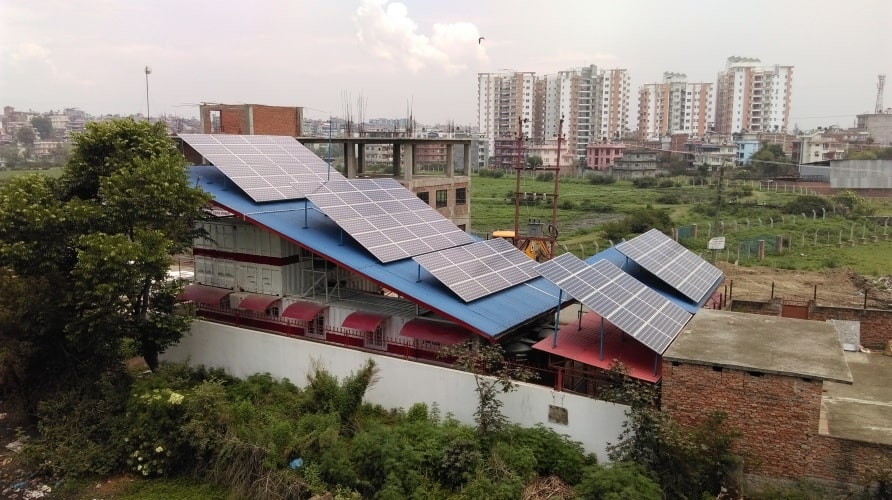 As well as charging the building's equipment, the solar panels charge batteries to give reserve power. There is also a separate back-up generator.
The solar power system's installed capacity is 18Kwp and it can generate an average of 62KWH/day.
"We can run the blood bank for a continuous 72 hours even if there is no sunlight or it is raining," Nawani said.
"In case anything happens and we lose the sun we have still have diesel in storage that will last for two weeks.
"After this most recent earthquake [a 7.3-magnitude tremor on 12 May] there are serious cracks in the central blood bank so the plan is that in the coming three or four days all officials from the central blood bank will be moved to this blood bank, which will be nominated as a central blood bank."
The British Red Cross has also sent a mass sanitation module to Nepal. It has been working in Chautara, east of Kathmandu.
The four-strong team includes a water sanitation engineer and equipment to provide sanitation for up to 20,000 people.
"A lot of what they do is about identifying what is a safe water source and also the digging of latrines, making sure that you put them in somewhere that isn't going to interfere with the natural water tables so you don't infect any water sources, and somewhere that is agreeable with the local population," said British Red Cross spokesperson Penny Sims.
"All of the kit is designed so that it easy to replicate or mend in the country you are in so you don't have specialist kit you have to fly in from somewhere, which would be expensive. It is all equipment that you can mock up quickly," she added.
The British Red Cross had been working for three years on an earthquake programme with its sister organisation in Nepal, and had previously placed 10,000 family kits containing necessities in the Kathmandu Valley. It also provided training in skills such as basic search and rescue, first aid and dealing with fires.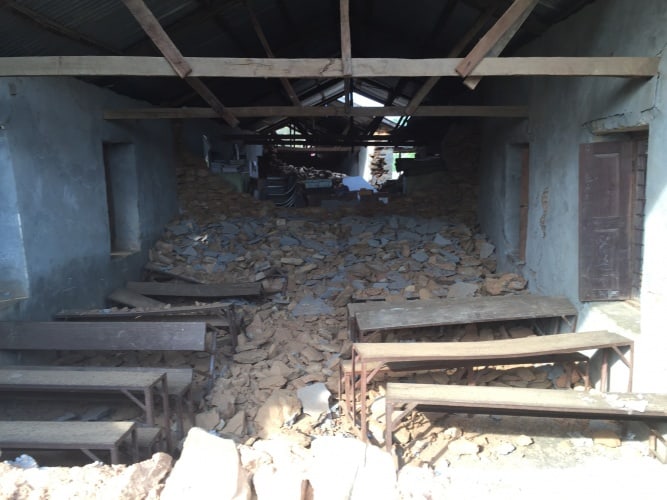 Members of RedR, which helps deploy engineers to disaster areas, are also helping in Nepal.
They are prioritising the provision of shelter and clean water before the monsoon season arrives.
The charity is also undertaking a needs assessment to decide how it can help the Nepalese people rebuild their country, and particularly their homes and other buildings.
"Generally the older the building the more likely it is to come down, not because they are rickety but because they are built as a very solid, unyielding structure and this was a powerful earthquake and it just smashed them," a spokesman said.
"What we will be doing is attempting to help people build back their houses, office buildings, that kind of thing, to be more resilient and to be less likely to collapse outright."
Training local people how to rebuild their infrastructure is also important, he added.
"We need to give them the skills to do these jobs themselves as they have got a better idea of what exactly they need than anybody else, and because it is, sad to say, likely there will be more earthquakes in Nepal.
"When these disasters happen we need Nepalese people to be trained and able to respond. The first responders to any emergency are the ones that save most lives."
Civilian engineers are not the only ones helping the people of Nepal. Gurkha engineers from the British Army have been deployed to support the relief effort and their efforts are listed in the following infographic that details how £23m of UK aid is being spent in the region.