The company has engaged administrators to manage the business going forward, but has retained all 14 employees. It intends to seek a sale or investment via the administration process.
Aquamarine was listed among the top five emergent wave energy companies after it was granted consent for a 40MW wave energy farm off the Western Isles, Scotland, in 2013.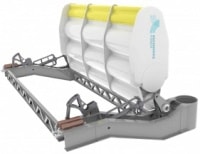 However, trouble was indicated when the company announced in late 2014 that it would downsize its business as part of a restructuring and redundancy programme.
The company garnered backing from the Scottish government, the EU Horizon 2020 fund, industrial group ABB, and utilities SSE plc and RWE. But SSE entered talks two years ago to exit from the marine power sector.
In 2012-13, Aquamarine Power posted a pre-tax loss of £35m due to a write-down on its future value.
The demise of Aquamarine Power is bad news for the wave energy industry. Aquamarine Power was appointed to advise a new Scottish body set up last year in response to the Pelamis insolvency.
It was asked this summer to share the knowledge gained through the development of the Oyster wave energy device under a contract with Wave Energy Scotland. Its device captures energy from near-shore waves and converts it into clean sustainable electricity.
The company was on track to deploy its third full-scale prototype by 2020 and its first pre-commercial array in early 2016. So far it had installed two full-scale Oysters at the European Marine Energy Centre in Orkney.
This article originally appeared on www.cleanenergypipeline.com a clean energy news service operated by VB Research, a sister publication to The Engineer. The reporter, Jessica Mills Davies, can be reached at jessica.millsdavies@vbresearch.com.