The new Memorandum of Understanding (MOU) builds on an existing relationship that saw the development of the Aston Martin Rapide S, a vehicle that incorporates the latest LeEco Internet of the Vehicle (IoV) system. According to Aston Martin, the RapidE will now be the first in a line of low-emission vehicles developed by both parties over the coming years.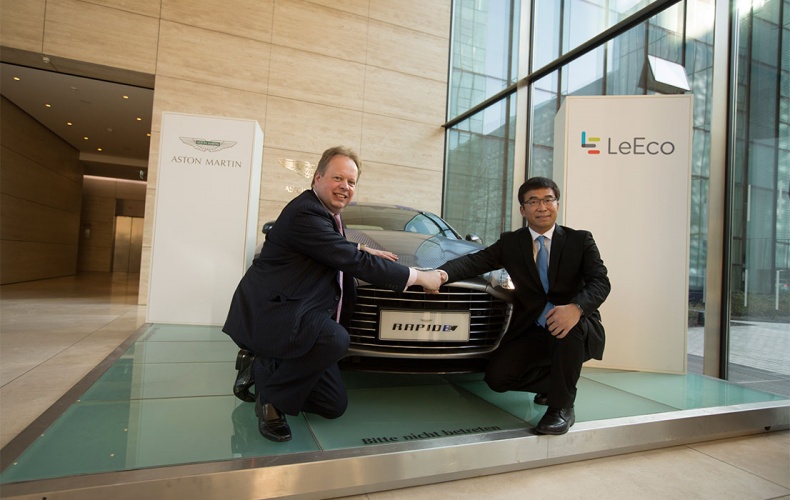 "Aston Martin are dedicated to developing a range of cars with low emission technologies," said Aston Martin CEO, Dr Andy Palmer.
"We have been encouraged by the project speed and technical depth shown by Letv in the development of the RapidE concept towards full production. Bringing the RapidE to market by 2018 is an important milestone for both companies."
LeEco's primary focus is on consumer electronics and media, delivering branded content in China via smartphones and set-top boxes. Its foray into the realm of electric vehicles is an indication of China's commitment to reducing pollution in its major cities. The government there wants 5 million electric vehicles on the roads by 2020, and incentives are being offered to drivers make the switch.
"LeEco's SEE Plan is dedicated to build electric, smart, connected and socialised cars," said Ding Lei, co-founder and global vice chairman of SEE Plan, LeEco's automotive IoT strategy.
"We have been targeting the highest standard in the auto industry in terms of design, R&D and manufacturing of our electric cars. We hope that, by strengthening collaborations with Aston Martin, our future models will provide premium qualities and delicate arts and crafts as good as those of Aston Martin."
According to Reuters, Palmer told a press conference in Frankfurt that the new vehicles will be built at Aston Martin's Gaydon production facility.