Babcock International has developed a new non-destructive testing (NDT) technique for naval ship tailshafts that could reduce assessment time from 18 weeks to one month.
After being qualified for use last year, the technique will be applied next month for the first time on Trafalgar class submarine HMS Trenchant during the current Revalidation and Maintenance Period (RAMP) being undertaken by Babcock at Devonport Royal Dockyard.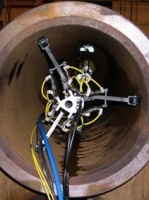 Tailshafts require a rigorous inspection regime for potential corrosion-initiated fatigue cracking. Such cracking can be caused by sea water seeping beneath the tailshaft's protective glass reinforced plastic (GRP) layer.
Up until now there has been no way to guarantee tailshaft integrity other than removing it, machining off the GRP bandage and subsequently surveying it.
The new technique enables the tailshaft to be inspected from the inside. Using an access point at the outboard end of the shaft, engineers found a way to feed in a transducer carrier with ultrasonic probes.
Inside the shaft these probes move up and down and sweep round 360 degrees on a specially designed track held between two centralising spider assemblies. The probes must be capable of picking up defects sometimes as small as 1.5mm through a wall ranging in thickness between 50mm and 200mm at up to 20m distance. They also must distinguish between corrosion pits, cracks and welded machining repairs. 
Once the data is collected by the probes it is analysed to determine whether the tailshaft is fit for purpose or in need of repair or replacement.
Babcock has spent the last three years trialling and developing the solution with partners including the Ministry of Defence Maritime Equipment Services team Frazer-Nash Consultancy and NDT industry partners Imes and Sonovation.