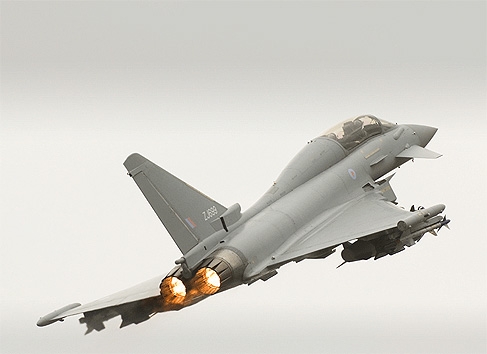 Restructuring within the company will see a further 150 roles made redundant in BAE's applied intelligence cyber security business. In total, 1,915 positions are at risk.
Charles Woodburn, chief executive, BAE Systems, said: "These actions will further strengthen our company as we deliver our strategy in a changing environment.
"Separately, we are also announcing actions at some of our UK sites to align our workforce capacity more closely with near-term demand and enhance our competitive position to secure new business."
Uncertainty surrounding a proposed 24 Typhoon aircraft deal with Qatar and a drop-off in orders for the Hawk trainer jet means that production rates will be reduced for both aircraft. Similarly, the withdrawal of the RAF's Tornado fleet will see support and sustainment activities at RAF Marham in Norfolk and RAF Leeming in Yorkshire wound down and ending in 2019.
As a result of these changes, there is a total proposed reduction of up to 1,400 roles within BAE Systems' Military Air business across five sites over the next three years. The company proposes a further reduction of around 375 roles across its Maritime Services division to 'closely align capacity with workload'.
The union Unite today called on the government to focus its defence spending on defence equipment designed and built in Britain.
Unite estimates that by 2020, a quarter of the UK's defence budget will be spent buying military platforms from companies such as Boeing and Lockheed Martin.
In a statement the union said it is calling on the government to ensure long-term projects — such as the next generation fighter jet (to succeed the F-35 Lightning II, which has not yet entered service), future support ships and the Type 31e frigate — be designed and built in Britain.
Unite assistant general secretary Steve Turner said: "These are world class workers with years of training and expertise on which an additional four jobs rely upon in the supply chain.
"The UK government must take back control of our nation's defence and with it, play its part in supporting UK defence manufacturing jobs. Too much taxpayers' money earmarked for defence spending is going to factories overseas. By 2020, 25 pence of every pound spent on UK defence spending will find its way to American factories alone rather than being spent here in the UK.
"This state of affairs is not only hollowing out Britain's sovereign defence capability and British manufacturing, but leaving the nation's defence exposed to the whim of foreign powers and corporate interests."
Job losses at BAE:
Warton & Samlesbury, Lancs
750
Brough, East Yorkshire
400
RAF Marham & RAF Leeming
245
Portsmouth & Solent
340
London, Guildford and other Applied Intelligence locations
150
Other UK locations
30
1915