ABB, the power and automation group, has acquired Vectek Electronics, a New Zealand outfit that has developed a means to improve the quality of power supplies in industrial installations, helping to reduce downtime and increase productivity.
The business has 73 employees as well as a research and development centre in the town of Napier, and will operate as part of ABB's Automation Products division. Terms of the transaction were not disclosed.
Modern electricity networks, while very secure from blackouts, suffer from variations in power quality that can result in very costly production shutdowns and variations in the quality of goods produced in industrial plants.
Vectek's high-power electronic converters use Active Voltage Conditioning (AVC) technology to mitigate the effect of voltage surges and sags, creating a more stable and continuous supply.
The converters are designed for industrial, commercial and marine applications, and have already been successfully introduced in the US and in a number of Asian markets. ABB's new product unit will be managed by John Penny, formerly chief executive of Vectek.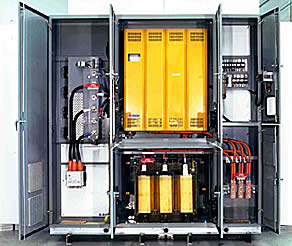 'ABB's global scope will enable customers on every continent to benefit from this new technology,' said Tom Sjoekvist, head of the Automation Products division.