Engineers at the University of California, San Diego have constructed the highest-resolution computer display in the world – with a screen resolution up to 220 million pixels.
The system located at the UCSD division of the California Institute for Telecommunications and Information Technology (Calit2) is also linked via optical fibre to Calit2's building at UC Irvine, which boasts the previous record holder.
The combination – known as the Highly Interactive Parallelised Display Space (HIPerSpace) – can deliver real-time rendered graphics simultaneously across 420 million pixels to audiences in Irvine and San Diego.
'We don't intend to stop there,' said Falko Kuester, Calit2 professor for visualisation and virtual reality and associate professor of structural engineering in UCSD's Jacobs School of Engineering. 'We are now seeking funding to double the size of the system at UC San Diego alone to reach half a billion pixels with a one gigapixel distributed display in sight.'
Kuester is the chief architect of the systems deployed in both Calit2 buildings. Until last week, UC Irvine's Highly Interactive Parallelised Display Wall (HIPerWall) – built in 2005 with funding from the National Science Foundation (NSF) – held the record of 200 million pixels for a tiled display system. It is located in the Calit2 Center of Graphics, Visualization and Imaging Technology (GRAVITY), which Kuester directs.
When Kuester's group moved to UCSD in 2006, they began work on the next generation of massively tiled display walls, which now serve as a prototype for ultra-high resolution OptIPortal tiled displays developed by the NSF-funded OptIPuter project , led by Calit2 director Larry Smarr.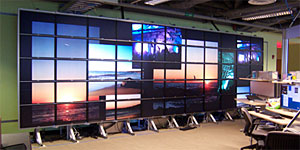 HIPerSpace OptIPortal at UC San Diego
The new HIPerSpace system between Irvine and San Diego is joined together via high-performance, dedicated optical networking that clocks in at up to two gigabits per second (2Gb/sec). The systems use the same type of graphics rendering technology, from industry partner NVIDIA. The "graphics super cluster" being developed at UCSD consists of 80 NVIDIA Quadro FX 5600 graphics processing units (GPUs).
The processing power will come in handy for the kinds of large-scale applications that are likely to make use of the HIPerSpace system. Calit2 will make the displays available to teams of scientists or engineers dealing with very large data sets, from multiple gigabytes to terabytes, notably in the Earth sciences, climate prediction, biomedical engineering, genomics, and brain imaging.