Engineers at Plastic Logic have developed what they claim is the world's largest flexible organic active matrix display.
The display consists of a flexible, high resolution, printed active-matrix backplane driving an electronic paper frontplane from US-based E Ink Corporation.
The display is a 10" diagonal Super Video Graphics Array with 100ppi resolution and 4 levels of greyscale that is less than 0.4mm thick when laminated with E Ink Imaging Film.
The backplane substrate is made from low temperature PET supplied by DuPont Teijin Films which is more flexible and easier to handle than alternatives such as thin glass or steel foil.
E Ink Imaging Film is an electrophoretic display material that looks like printed ink-on-paper and has been designed for use in paper-like electronic displays. Like paper, the material can be flexed and rolled. The film only consumes battery power while the image is updated.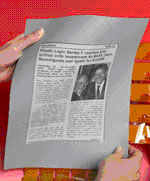 The displays were fabricated using Plastic Logic's new 350mm by 350mm prototype line and its proprietary printed electronics process that is scalable for large area, high volume and low cost. Plastic Logic plans to form partnerships with manufacturers to bring the process to mass production.