IBM software that creates a 3D model of the human body to assist clinicians in keeping electronic patient-records has recently proved its worth in a test at a Danish hospital.
Using a map of the human body, medical staff at the Thy-Mors Hospital are now able to obtain an up-to-date overview of each patient's record at a glance.
The software was created by scientists at IBM's Zurich Research Laboratory in collaboration with experts from IBM Denmark.
Using a 3D representation of the human anatomy, the so-called avatar helps medical staff easily navigate an electronic patient-file.
Doctors can rotate the avatar and zoom in and out to generate the level of detail needed.
With the tool, they can also choose between different views, for example enabling inspection of the organs or the circulatory, muscular and nervous systems.
Arrows indicate the areas of the body for which medical data is available.
Selecting one of these arrows gives medical staff all pertinent information at the click of a mouse.
'The IBM tool gives me a fantastic, graphical view of the patient's status: I can see much more information than just what the patient tells me is bothering him or her that day - information for which I would otherwise have to spend considerable time searching through our current records system,' said Dr Hardy Christoffersen, head of the hospital's surgical outpatient clinic.
The test also showed additional benefits of the visualisation: it helped doctors to spot information indirectly related to current health problems but still relevant to the treatment.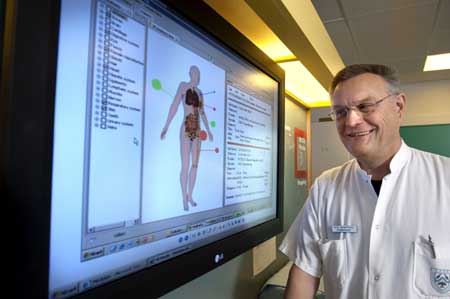 IBM and business partner Nhumi Technologies will collaborate to commercialise the technology and plan to work together to further develop innovative healthcare solutions.