The company is now preparing to begin an integrity test of the leaking well over a minimum of six hours to a maximum of two days.
This weekend, the company announced that it had began installation of the new seal by removing the damaged lower marine riser package (LMRP) cap from the Deepwater Horizon's failed blow-out preventer with the use of robotic submarines.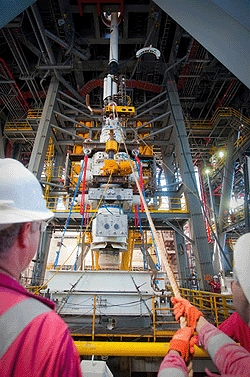 A 'transition spool' was installed and bolted onto the remaining flange on the blow-out preventer early yesterday. Over night, BP lowered a new stack of valves, known as a capping stack, on top of the transition spool and sealed it together. These valves will be designed to gradually close, allowing them to either shut off the flow of oil or divert it to pipes connected to collection ships on the surface.
During the integrity test, the capping stack will be closed and all sub-sea containment systems will be temporarily suspended, effectively shutting in the well.
BP stated that it is expected, although cannot be assured, that no oil will be released to the ocean for the duration of the test. The company was quick to note that this will not be an indication that flow from the wellbore has been permanently stopped.
All of the information gathered during the test will be reviewed with government agencies, including the US federal science team, to determine the next actions. Some of the options include reinstating the containment or extending the test duration beyond 48 hours.
BP points out that the sealing-cap system has never before been deployed at these depths or under these conditions, and its efficiency and ability to contain the oil and gas cannot be assured.
Meanwhile, the a new oil-capture system, a rig called the Helix Producer, started operations yesterday as part of its effort to ramp up its containment capacity to 60,000-80,000 barrels a day, starting from the end of July.
It is likely to take several days to ramp up the Helix to full capacity, which is about 25,000 barrels a day.
BP stated that the Q4000 service platform will still continue its duties of collecting oil and gas, and burning it off at the surface. The company gained permission to do this from federal authorities in June as part of its promise to triple the amount of crude it stops spewing into the sea.
As of yesterday, BP estimated that the cost of the oil-spill clean-up in the Gulf of Mexico has risen to $3.5bn.