A 62,000m2 quarry is being developed at Derby University to help prepare industry trainees of the future.
But there is no physical rock face or stockpiles of material in sight because the quarry is being developed within the virtual reality platform, Second Life.
The unique £20,000 project is a collaboration between the university and the Institute of Quarrying (IQ) – the international professional body for quarrying, construction materials and the related extractive and processing industries.
Derby researchers are making the quarry look remarkably lifelike. No attention to detail is being missed, with photos of real rock faces being used to help create the graphics as an example.
The project is set to be officially launched at the university in October 2009 when guests at the event will have the chance to see the software in action.
The initial work began on the project in July 2008 and while the site is still being developed, it is expected that a full programme of training options will be offered. These include assessing students' ability to manage a range of different tasks such as performing quarry blasts and assessing the stability of rock faces.
The unique advantage of the virtual reality quarry is that students can test their knowledge and skills in a realistic but entirely risk-free environment so that mistakes may lead to lost marks but not to accidents.
Peter Radcliff, e-learning development manager who oversaw the university's Centre for Educational Development and Media's (CEDM) work on the virtual quarry, said: 'Over the next few years we anticipate increasing use of virtual world technology to allow student interactions with environments that would be too costly, dangerous or even impossible to achieve in real life.'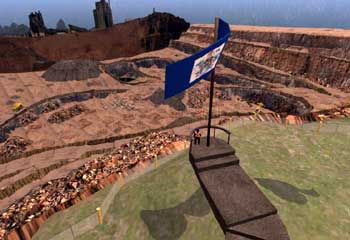 In the run up to the launch, the university's business arm, University of Derby Corporate, will be looking to garner interest within the sector for the new technology and is also looking to see which other industries could benefit.