Led by the UK's Transport Systems Catapult, the Low-carbon Urban Transport Zone (LUTZ) Pathfinder project has developed two-seater autonomous electric-powered 'pods' that could one day be used to provide public transport along pedestrian routes.
In trials expected to begin early next year, a small number of pods will begin operating along predetermined pedestrianised routes in Milton Keynes. Findings from the project will then be fed into the larger-scale UK Autodrive programme which is set to deploy a larger fleet of 40 pods along with "regular" road-based cars as part of a two-city trial in Milton Keynes and Coventry.
The battery powered, four-wheeled pod developed by the team seats two people, can travel at a maximum speed of 15mph and has a range of 40 miles. Rather than relying on GPS to find its way around the vehicle uses information from an array of different sensors to work out where it is within a pre-mapped environment.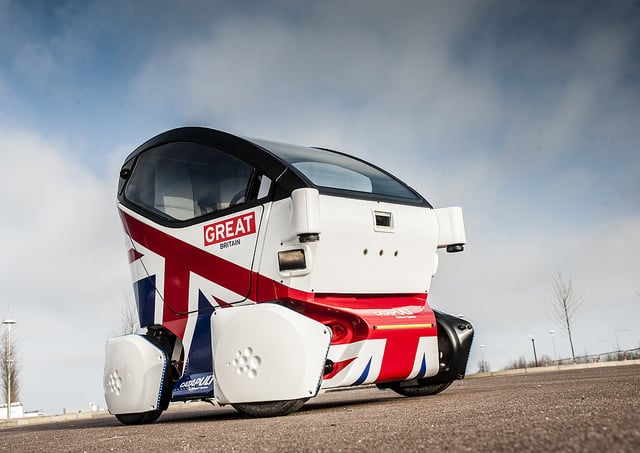 Partners in the project include Coventry engineering firm RDM which is manufacturing the pods; Oxford University's mobile robotics group, which has developed the vehicle's sensor and navigation system, and Milton Keynes Council.
Mike Hawes, SMMT chief executive, said, "Transport Systems Catapult should be recognised for its work in helping put Britain at the forefront of connected and autonomous vehicle development. Technologies such as these represent a huge area of growth for the UK's automotive industry, with the potential to deliver 300,000 new jobs within the next 15 years. The LUTZ Pathfinder trial is not only an innovation in itself but will provide invaluable data, experience and learning for the whole sector."
Commenting on the UK's potential in this area, Rob Rickell, president of Group Technology, GKN, said:  "Automated and connected vehicles offer an exciting future, enabling more efficient movement of people and goods, as well as improving road safety. It is pleasing to see a UK firm playing an active role in the evolution of the automobile, and this project is an important part of the journey towards fully automated cars on the road."
Now in its sixth year, the Award – in partnership with the Advanced Propulsion Centre, sponsored by GKN, and supported by The Times – rewards UK-developed technologies that have the potential to benefit the UK's automotive industry.
This year's award also recognised two highly-commended entries: a fuel-saving chassis for 12-tonne vehicles developed by Leyland Trucks; and Oxford Advanced Surfaces' molecular bonding agent which will assist the introduction of more advanced and lightweight materials in the manufacturing process.