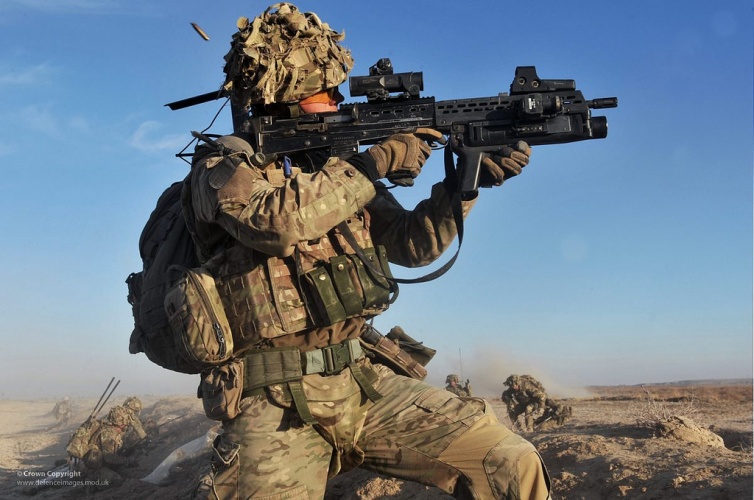 (Credit: Sgt Rupert Frere/Crown Copyright)
Preliminary work has indicated that the material could lead to a weight reduction of up to 35 per cent. According to Dstl, the synthetic biology research behind project has been running for four years, and the organisation is now ready to put samples through hardness testing. A scale-up process is also currently underway to produce samples of the ceramic armour for live-fire testing.
READ MORE DEFENCE AND SECURITY NEWS HERE
The announcement was made as part defence minister Harriet Baldwin's visit to Dstl's Porton Down research facility. So far, £6m has been invested in synthetic biology for novel materials research, including funding for competitions that bring industry and academia together. Some of these have been run jointly with the Research Councils, while others have been run independently using MoD organisations, such as the Defence Accelerator.
"We've spent millions on innovation this year, developing technologies like a new way to uncover insurgents' fingerprints to mini-drones that investigate chemical hazards," said Baldwin.
"The goal is always to help our Armed Forces defend the UK, and this next generation of armour will make our troops even more alert and effective on the battlefield."
The mini-drone referred to by the defence minister is known as Snake Eyes, and features equipment capable of detecting chemical traces and biohazards. Other innovative technology the Dstl is developing includes driverless 4x4 trucks controlled remotely by soldiers, a laser weapon for tracking and engaging aerial and surface targets, and a new 'lightning-fast' protection system called Icarus that will be able to detect and defeat threats to armoured vehicles within 100 milliseconds.