claim could transform urban transport in the region within five years.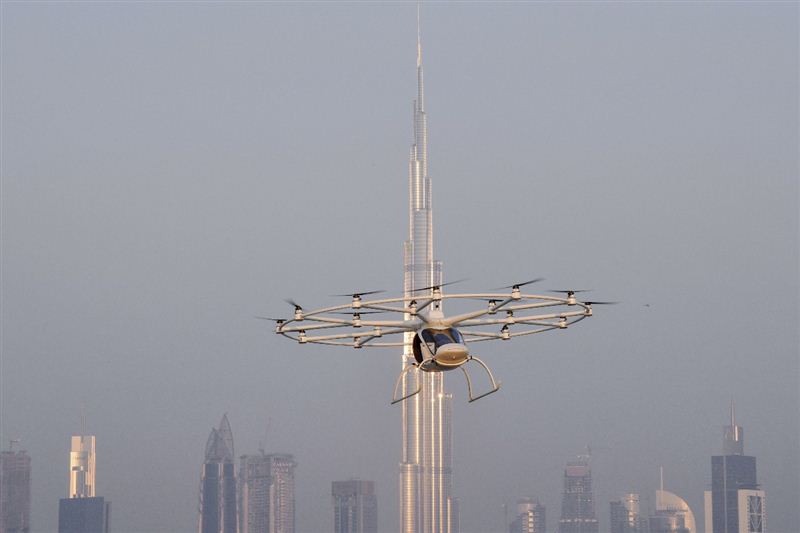 During the trial – which was held near the Jumerirah Beach Park – a two-seater autonomous air vehicle (AAV) reportedly flew to an altitude of around 200m and stayed in the air for around five minutes.
Manufactured by German company Volocopter the drone is around 2m high and driven by 18 individual battery powered rotors housed in a 7m diameter rotor rim above the cockpit. Able to hold two passengers, the aircraft has a claimed top speed of 100km/h and a maximum flight time of around 30 minutes.
As previously reported by The Engineer the Dubai Road and Transport Authority (RTA) has been exploring a number of different vehicles, including a similar AAV produced by Chinese drone specialist Ehang.
Originally unveiled at the 2016 CES show in Las Vegas, the Ehang 184 is able to fly at altitudes of up to 500m and stay aloft for around 30 minutes, the fully unpiloted eight rotor aircraft can carry a single passenger weighing up to 100kg.
The trials are part of a wider vision to transform Dubai into a global centre for driverless mobility. The city already boasts the world's longest driverless metro and is also said to be considering the introduction of driverless buses and taxis. Dubai's ruler – Sheikh Mohammed bin Rashid Al Maktoum – has previously stated an ambition that 25 per cent of all journeys made in Dubai will be driverless by 2030.
Meanwhile, a relatively new entrant to this emerging sector, Passenger Drone, this week released footage of the maiden flight of yet another autonomous air vehicle.
Similar in appearance to the Velocopter, Passenger Drone features 16 electric rotors each powered by their own electric motor; is built of carbon fibre and is controlled entirely by fibre optics.
https://www.youtube.com/watch?v=V3pi4HfQ0Gc&feature=youtu.be
According to information on the company's website, the vehicle seats two passengers, who are able to use a simple touchscreen to select where they want to go before a specially developed autonomous navigation and avionics system shuttles them to their destination.
According to the company, the aircraft commenced flight testing in early May 2017 and for the last few months has performed intensive testing with different simulated payload weights, simulated engine failures and different control modes. First manned flights with passengers on board took place in August 2017.