The Cri-Cri, based on the world's smallest twin-engine aircraft, uses a specially developed battery management system to provide enough power for 30 minutes of cruise flight at 110kph.
European defence company EADS, working with Aero Composites Saintonge and the Green Cri-Cri Association, built the plane as 'a flying laboratory' to test new technology for the development of environmentally friendly, high-performance aircraft.
'Today, electrical propulsion fits pretty well with some applications [such as city cars],' said Emmanuel Joubert, manager of the Cri-Cri programme at EADS Innovation Works.
'The idea was to choose the right aircraft where electrical machines can bring more power and boost during acrobatics and better performance during climb phase,' he added. 'The Cri-Cri is well adapted for that and its electrification by four engines results in a world-first.'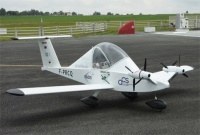 The plane's designers used several new technologies to adapt the craft from the original 1970s Cri-Cri, designed in France by Michel Colomban as a home-built aerobatics plane.
Carbon composite material was used to reduce the weight of the frame while compensating for the extra weight of the batteries, and aero dynamism was improved by between 20 and 30 per cent.
Lithium polymer batteries power four brushless electrical engines that have a high voltage and a low intensity to prevent them from overheating. EADS is particularly interested in using the battery management system in other applications.
The batteries take one hour to charge and can provide enough power for 15 minutes of autonomous aerobatics at speeds of up to 250kph and a climb rate of around 5.3m per second.
'At the beginning, electrical propulsion emits more CO2 because of the high CO2 cost for the lithium batteries' production compared with fuel,' said Joubert. 'But after five hours of flight, electrical propulsion emits less CO2 and becomes greener compared with thermal engines.'
The team calculated the CO2 emissions based on the amount of electricity generated by nuclear power in France.