Aiming towards low-emissions and non-fossil fuel technologies, the company is working on three collaborative projects that use electric motors to propel aircraft both in the air and on the ground.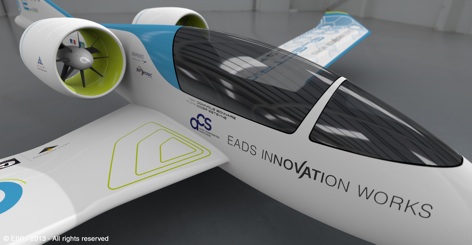 EADS and French aerospace manufacturer Aero Composites Saintonge (ACS) have worked together to produce a fully-electric training aircraft called E-Fan, propelled by two electric motors running ducted fans mounted on the fuselage. Powered by batteries housed in the wings, the aircraft also has electric motors in the landing gear to power taxiing and also to help provide acceleration during take-off.
This is something which is of great interest to civil aviation companies, as Airbus UK R&D chief Colin Sirett explained at the recent Engineer conference. As an airliner can travel around 200,000km on the ground during its lifetime, and jet engines are at their least efficient at ground level — some estimates say that this can use 5 million litres of fuel per aircraft per year.
EADS is also working with Siemens, unveiling an improved version of a hybrid electrically-propelled glider it first showed at Paris in 2011. Siemens provided its motor, which it uses to take it up to gliding altitude and speed, and is powered by electricity generated by an on-board Wankel engine that charges batteries in the wings.
Another hybrid project is currently underway with Rolls-Royce. Cofunded with the UK Technology Strategy Board, the Distributed Electrical Aerospace Propulsion (DEAP) project is aimed at reducing overall aircraft gas and noise emissions, while also improving fuel economy by using a distributed electricity generation system.
The system uses an advanced gas-burning power unit to generate electricity, which is then used to run six electric fans — three on each wing — to generate thrust; each group of three shares a common intake duct.
'The idea of distributed propulsion offers the possibility to better optimise individual components such as the gas power unit, which produces only electrical power, and the electrically driven fans, which produce thrust,' said Sébastian Rémy, head of the project leader EADS Innovation Works, in a statement.
'This optimises the overall propulsion system integration. The knock-on effect, we expect… is to reduce the overall weight and overall drag of the aircraft.'