The new opoc engine design itself was conceived by Prof Peter Hofbauer - who, as former head of powertrain development at VW, designed the original VW high-speed diesel engine that became the foundation for the Jetta Clean Diesel that won the 2009 Green Car of the Year honours.
The engine operates on the two-cycle principle, generating one power stroke per crank revolution per cylinder. It comprises two opposing cylinders that move in opposite directions with a crankshaft between them.
The design eliminates the cylinder-head and valve-train components of conventional engines, with the result that the engine is lighter, more efficient and economical, with lower exhaust emissions compared with conventional designs.
Indeed, the company claims that its engine design can deliver up to 50 per cent greater fuel efficiency compared with conventional engines of similar output. And with 50 per cent fewer parts than a conventional engine, the company says that it is also less expensive to manufacture, to purchase, to operate and to tool up.
Established in early 2008, and based in Troy, Michigan, EcoMotors is now commercialising the opoc engine for use in cars, light trucks, commercial vehicles, aerospace, marine, agriculture and auxiliary power units.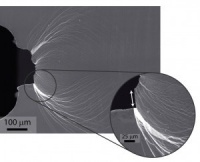 Earlier this year, the company announced that the Zhongding Holding Group had signed a letter of intent in which that company said that it too intended to fund further development of the engine technology.