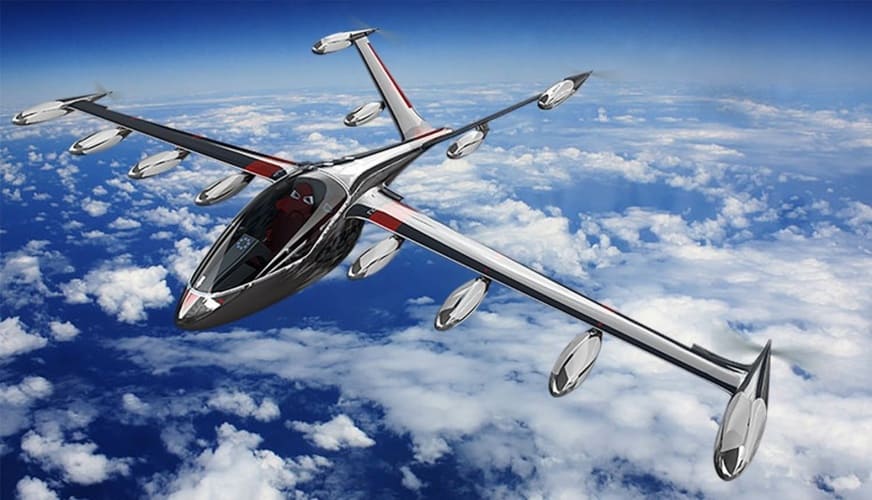 The only artist's impressions of the secretive vehicle date from 2015 (Credit: Joby Aviation)
According to the California-based company, its four-passenger vehicle will be able to fly at least 150 miles on a charge, be 100 times quieter than conventional aircraft during takeoff and landing, as well as 'near-silent in flyover'. The air taxi uses a specially designed tilt-rotor system that points them upward to gain height and descend, then adjusts them 90 degrees for low-powered forward flight. Following a visit to the company's private airfield in Northern California, Bloomberg reported that a prototype of the aircraft was piloted on a 15-minute flight, successfully performing vertical takeoff and landing.
"People waste billions of hours sitting on roads worldwide each year," said Joby Aviation founder and CEO JoeBen Bevirt. "We envision a future where commuting by eVTOL is a safer, faster, and cost-competitive alternative to ground transportation."
"We have spent the last ten years developing the technologies that have made our full-scale technical demonstrator possible and are now ready to build a commercial version of the aircraft. We're excited to have attracted the backing of leaders in auto manufacturing, data intelligence, and transportation sectors."
For its Series A funding back in 2016, Joby raised around $30m, with Tesla backer Capricorn Investment leading the round. The Series B round was led by Intel, alongside Singapore-based EDBI, JetBlue Technology Ventures, and Toyota AI Ventures, as well as existing investors Capricorn, 8VC, Sky Dayton and Paul Sciarra.
"Intel believes the future of transportation is data-driven – whether you're talking about autonomous cars or next-generation air travel," said Wendell Brooks, president of Intel Capital. "Joby Aviation has been laser-focused on delivering a unique vehicle into the market. This is a truly disruptive technology with the potential to push the geographic boundaries of where people can live and work."