Traditionally, training for this type of driving has been carried out on public roads, using vehicle sirens at speed to replicate emergency situations. The simulator will be used to support this real-word training, but will enable instruction and assessment with zero safety risk.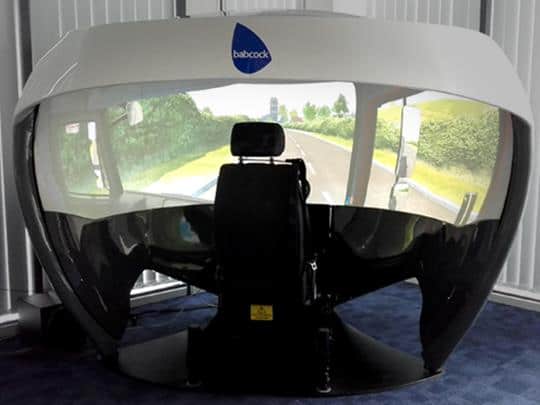 During the project's 18-month development, extensive testing and research was carried out in order to exactly simulate the handling of a fire engine for the initial prototype. However, the simulator can also be adapted for ambulance and police training by swapping in a range of hardware and software to reproduce the driving experience of those vehicles.
"What we're bringing to the market is a...product that reflects and meets the changing needs of the emergency services, not just in the UK but internationally," said Alistair Cumming, head of Training, Design and Development at Babcock.
"The R&D and intelligent software built in to the model can be optimised for any vehicle, and that is really exciting."
A 200 degree wrap-around screen means that drivers are fully immersed in the simulated environment, with accurately rendered side streets that can be checked for merging traffic. On-screen mirrors also reflect vehicles to the rear and the side of the driver, adding another layer of realism.
The software includes 167 miles of urban, inner city, and rural routes, designed to test skills in a range of scenarios. In what the developers claim is a big leap forward, every vehicle in the simulated environment has been ascribed its own artificial intelligence and the ability to react to the decisions made by the driver.
"The big difference with this (simulator) is that you're actually in a fire engine, you're actually sitting inside the cab of a fire engine and it becomes immersive," said Cumming. "The only way that simulation can actually be effective as a training tool is if you're immersed in it."
The Engineer will be taking a closer look at the Babcock simulator and its development for an upcoming feature.