According to a statement, athletes were put through their paces at a BAE Systems wind tunnel to help to find their optimal racing position. The wind tunnel — normally used to test fighter jets at speeds of more than 200mph — showed how the wheelchair racers interact with the air around them, simulating racing speeds of more than 30mph.
Computational fluid dynamics was employed after testing to provide data that helped the British wheelchair athletes better understand how their body position affects wind resistance. This allowed the team to improve athletes' seating positions, as well as highlight their optimal posture for racing in different track situations.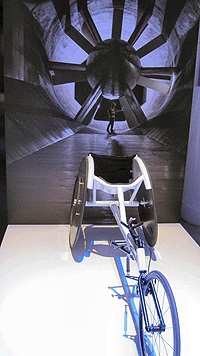 The work is part of a £1.5m Technology Partnership with UK Sport, the UK's high-performance sports agency, which has seen BAE Systems apply defence technology and thinking to help advance elite sport.
A senior coach from the UK Athletics Paralympic Program said: 'Disability sport is becoming increasingly competitive and wheelchair racing in particular is one of the most fiercely competitive of all events.
'With that in mind, we have to maximise every opportunity to ensure that our attention to detail is second to none in a fast-progressing sport.'
BAE Systems is also helping the British wheelchair athletes by creating a new and improved version of the wheelchair in partnership with UK Sport, aerodynamic specialist TotalSim and DRAFT, a wheelchair manufacturer.
This new wheelchair will reportedly have improved rolling resistance in wheel alignment and tyre pressure, as well as the stiffness of the wheelchair frame, and it is hoped that it will be used in future track and long-distance road events to shave tenths of seconds off winning times with a stronger, lighter and more aerodynamic design.