Aero Innovative Research (AIR) of Valley Center, Kansas, has developed a new high-technology wheelchair.
The wheelchair, dubbed the Flight, weighs just 8.2kg and measures only 24.1cm from hand-rim to hand-rim when folded, which provides greater mobility, ease of use and independence to people with physical challenges.
'It's the world's lightest and tightest-folding, fully adjustable, customisable wheelchair,' said Matt Cochran, AIR production manager.
The new design sports a sandwich panel frame made of lightweight, damage-resistant materials. All the parts are CNC machined and precision assembly techniques are used in the manufacturing process - including gun-drilled hinges.
The design process began when Cochran created a 3D model of the wheelchair using Alibre Design computer-aided design (CAD) software. Then, Algor software was used to analyse the result.
Cochran modelled and analysed every component of the design, including the frame panels, caster fork, rear axle plate, folding footplate and a custom hinge screw. The goal of the analysis was to remove extraneous material and make the design as lightweight as possible while maintaining necessary strength and ensuring a factor of safety.
One part of the wheelchair that AIR analysed with the Algor FEA software was the mounting flange for the front casters of the wheel assembly. 'In other wheelchair designs, wheels can flutter and turn sideways, like is commonly experienced with grocery store carts,' said Cochran. 'But, our design uses a Delrin bushing, which acts as a damper and keeps the wheel from fluttering.'
Cochran modelled the caster flange in Alibre Design and then opened the model in Algor and set it up for linear static stress analysis. He defined a maximum load of 1735kg to simulate the chair with a 113.3kg occupant falling 9.14m onto one wheel.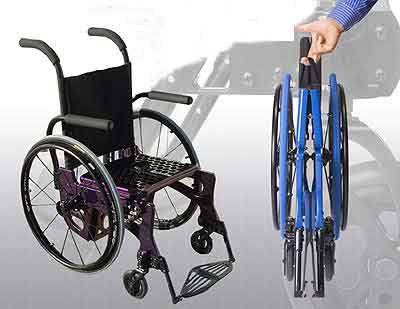 One part of the Flight Ultralight Wheelchair that AIR analysed with Algor FEA software was the caster flange, a component of the wheel assembly. A 3D solid model was created using Alibre Design CAD software (shown in the photo at upper left) and then Algor linear static stress analysis was performed to determine the stress distribution (upper right). An iterative design-and-analysis process allowed AIR to develop a final caster flange design (bottom) that was as lightweight as possible while ensuring necessary performance and durability.
'It's a load that we wouldn't expect a competitor's tube chair to survive. We tested our caster flange at this load as a level of overdesigning, to ensure that it could take the abuse, and give us confidence in its durability.'
The FEA results indicated a need to revise the initial design. 'We found a high concentration of stress,' said Cochran. 'So, a fin was added to distribute the load better, resulting in a part that was stronger and also approximately 15 percent lighter than the original design.'
After all of the FEA simulation was done, AIR submitted the wheelchair for physical testing at a leading test facility in Pittsburgh, Pennsylvania.
Wheelchairs are required to pass tests set forth by ANSI (American National Standards Institute) and RESNA (Rehabilitation Engineering and Assistive Technology Society of North America) standards for approval by the FDA (United States Food and Drug Administration).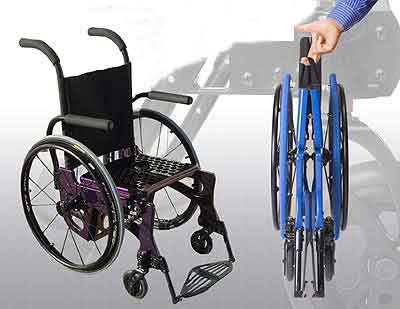 The chair was tested with automatic equipment including double-drum testers, curb-drop testers and impact testing. These tests simulate the lifetime of abuse expected for a wheelchair. The most rigorous of these tests include 200,000 cycles of double-drum testing and 6,667 curb drops.
After more than four months of extensive testing, the Flight wheelchair passed all tests on its first try.