The US outfit Freedom Sciences has developed a new system that enables those in powered wheelchairs to independently transport themselves and their wheelchair into and out of a wide range of vehicles.
The company's so-called Automated Transport and Retrieval System (ATRS) transforms a standard powered wheelchair into a "smart chair" that eliminates the need for a carer to assist a wheelchair user into a vehicle, providing the wheelchair user with the ability to enter and exit a vehicle completely independently.
In operation, the ATRS lowers the driver or passenger seat from the vehicle at the same time that a wheelchair storage unit is unloaded from the rear of the vehicle. Once positioned in the seat, the user operates a remote control to guide the wheelchair to the back of the vehicle.
As the wheelchair reaches the vehicle's storage unit, the remote is no longer needed and a non-contact laser measurement system takes over the navigation, precisely loading the wheelchair into the vehicle.
Tom Palermo, a Bronze Star Vietnam veteran and real estate agent from Somer's Point, New Jersey, has been using ATRS since May of 2008 under a pre-market testing program conducted by Freedom Sciences. 'Now I don't have to worry if my assistant is there to help me. ATRS has given me my independence back,' Palermo said.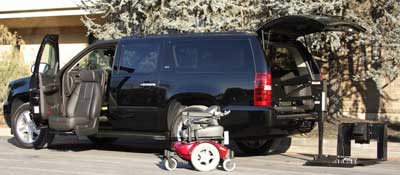 ATRS is available this month for a suggested retail price of $28,000 for minivans and $32,000 for SUVs