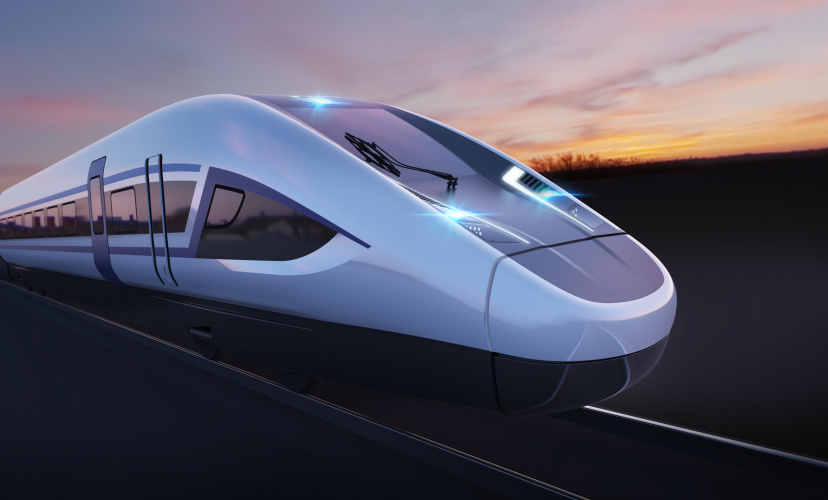 Addressing the House of Commons, prime minister Boris Johnson said the review 'leaves no doubt of the clinching case for high speed rail', adding that services could be running by the end of the decade if work on the project starts now, with Phase 1 costed at between £35bn and £45bn 'in today's prices'.
Johnson said: "Dramatic improvements to local transport and the decision to proceed with HS2 will shift this country's centre of gravity away from the capital and transform connectivity between our towns and cities.
Parliament 'misled' over cost of HS2
Last week's poll: the post-election future of HS2
"I am drawing a clear line under the mismanagement of the past – HS2 must be delivered more efficiently and cost-effectively so that communities feel its benefits more quickly, particularly those in the North.
"After thorough analysis of the benefits and impacts of the project, work on Phase 1 [between London and Birmingham] is set to start in April. Government will revive the legislation to deliver Phase 2a [connecting Birmingham to Crewe] as soon as possible so that preparation works can move forward."
HS2 Ltd, which was set up to develop and promote HS2, was criticised by Johnson for poor management and failing to distinguish itself in the handling of local communities. Consequently, HS2 Ltd's role will be redefined so that it 'can give maximum focus to successfully delivering Phase 1 and 2a, and making new delivery arrangements for Euston station and the design and construction of Phase 2b, to ensure better value for money and on time delivery.'
A new minister will be appointed with specific oversight and accountability for HS2, delivering regular updates to Parliament.
A decision on the delivery of Northern Powerhouse Rail and Phase 2b of HS2, extending high-speed rail from the West Midlands to the North, will be based on an assessment by the National Infrastructure Commission, and will take forward lessons learned from Phase 1 of HS2 to drive down costs.
Commenting on today's announcement, Nick Baveystock, director general of the Institution of Civil Engineers, said: "On balance, today's decision is the right one. The challenges that HS2 seeks to solve are significant. With the UK's population set to reach 75 million in the coming decades, we must have a rail network that can meet the demands of commuters, now and in the future, by addressing overcrowding, resilience and reliability.
"The government has also rightly recognised that HS2 should be properly integrated into the wider rail network - a holistic approach to infrastructure planning always delivers better outcomes. Focus should now be redirected to the future planning and delivery of HS2 - ensuring that its benefits, not just its costs, remain at the forefront of people's minds."
Sounding a note of caution, Prof Roderick Smith, Imperial College London, said: "Whilst I hugely supportive of the need for HS2, it is disappointing that a complete review of the project has not been announced. What is proposed is the wrong kind of railway, expensively designed which completely lacks the public support which is vital for such a massive infrastructure project. The way in which the railway will promote development has not been thought out, and the shape of a completed network has not been considered. What we are now promised is a complete and expensive dog's dinner!"
Reaction round-up
"With HS2 expected to boost the West Midlands economy by £14bn, it will change our business environment for the better. The region is also home to the UK's first multi-city 5G testbed, and is about to host the 2021 City of Culture and 2022 Commonwealth Games. With so many milestones on the horizon, the coming decade will showcase the West Midlands as a global hub for innovation and opportunity." Neil Rami, chief executive of the West Midlands Growth Company
"HS2 will not just boost the UK's economy and connectivity, but will also enable other major rail infrastructure projects to be delivered too, such as Northern Powerhouse Rail, Midlands Rail Hub, East West Rail, Crossrail 2, and a range of other schemes." Darren Caplan, chief executive, Railway Industry Association
"It is estimated that HS2 will use 2 million tonnes of steel over the next 10 years and the UK's steel producers stand ready to supply the steel for the new track, rolling stock, tunnels, bridges and much more besides. The use of UK made steel for HS2 would support over 2,000 jobs, and deliver £1.5bn to the UK economy - ensuring the benefits of this project are not just felt along the route, but in steel communities across the UK." Gareth Stace, UK Steel director general
"HS2 provides the perfect platform to develop a highly-skilled workforce across numerous technical sectors...The impact of Brexit has…meant further losses to the available skillsets to draw from, meaning now, more than ever, we need to broaden our talent pools into overseas markets to plug this gap." Adrian Adair, COO, Morson Group
"While we welcome the commitment to the project as a whole, we urge the government to move ahead with purpose to ensure that Phase 2 isn't compromised, recognising that HS2's true benefits hinge on extra capacity for cities and regions beyond Birmingham." Lizi Stewart, transportation managing director - Atkins
"The time for talking is over. We all have a stake in the successful delivery of an integrated, modern transport system, fit for 21st century Britain.  Now is the time for us all to pull together and get behind this transformative scheme to ensure that its benefits are felt in the towns across the North." Roger Marsh, Chair of the Leeds City Region Enterprise Partnership (LEP) & NP11