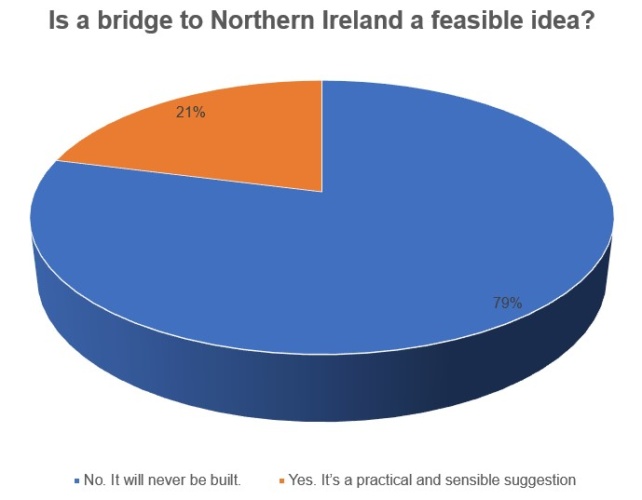 As reported in The Engineer in 2009, plans to build an airport in the Thames Estuary were challenging and highly ambitious but they amounted to little more than ink on the pages of newspapers and magazines.
'Boris island' points to watery future for building
HS2 given go-ahead in Parliament
 HS2 was initiated under a Labour government but given the go-ahead by Johnson on February 11, 2020 at a cost that is double that of the original estimate. Prior to becoming the PM, Johnson's tenure as Mayor of London saw him support the "garden bridge", which would have seen a new pedestrian bridge across the Thames. As noted last week, the project was abandoned in 2017 after a financial review, but not before it had cost £43m of public money. A break down of costs can be found in a report published by Transport for London.
Johnson's idea for a 22-mile bridge between the UK and France was roundly dismissed and his latest idea – a bridge connecting Scotland and Northern Ireland – appears to have been met with a certain amount of disdain with 79 per cent of poll respondents saying it won't be built. The remaining 21 per cent think that it's a practical and sensible suggestion.
The PM might be advised to read the comments that followed the poll, given the profession of those taking part in it.
"At least one of the routes would have to cross the ~1million tonnes of ordnance munitions in Beaufort's Dyke – so pointless and dangerous! Both routes would also require significant access road building to reach the existing motorway network in both Scotland and NI which would significantly increase the costs," said John Rudin. "Like HS2, it is technically feasible, but would not make economic sense."
Allan Thomson said:" Looking at the sea floor information for a crossing from Port Patrick; very variable seabed geology, over 200m depth at centre and strong tidal currents would make it very challenging and costly."
"What problem is this bridge to solve? asked Steve Monaghan. "What is its purpose? What are the pros & cons? Can the cost, risks, hazards, be justified? I don't hear the politicians discuss these important considerations despite these being exactly what politicians should be debating about a huge engineering task such as this."
Its not all bad news for Boris though.
"Build it," said Bruce Ellison. "Show the rest of the world we have the best engineers and capability. Denmark to Sweden across difficult waters was a success. Why not this bridge?"
What do you think? Keep the debate alive below, but be aware that comments are moderated.