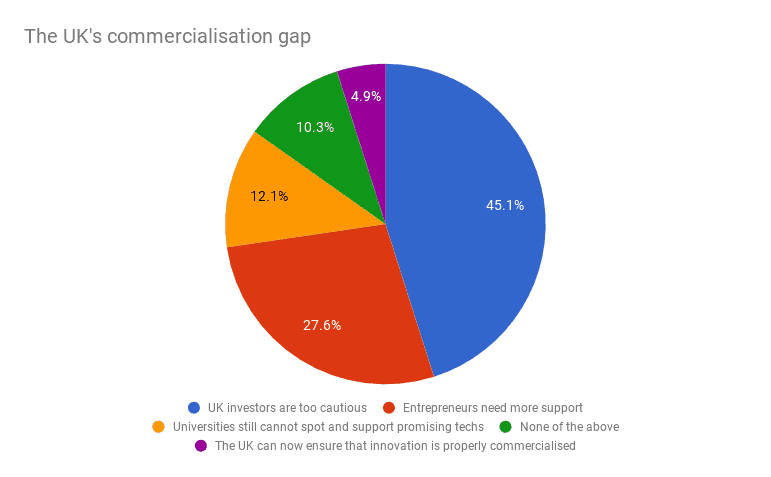 Sentiment regarding the UK's ability to commercialise technology was overwhelmingly negative, with nearly 85 per cent feeling the country is falling short in some respect. Just over 45 per cent believe that UK investors are primarily to blame, a culture of caution blocking the pathway from academic excellence to commercial success.
In a similar vein, 27.6 per cent said entrepreneurs need more support, while 12.1 per cent believe the shortcomings lie mostly with universities that struggle to identify and support technology with promise. In contrast, just 5 per cent of readers think that the UK has got its house in order and is in a position where innovation is now properly commercialised.
As ever, the commenters provided additional colour, pointing out exactly where they felt the UK was failing.
"A typical lack of application of innovations is the way that South Korea tied up the Patents on most graphene applications, before the UK even put pen to paper," wrote Sandy. "Invention of a method or material in a University is all very well, but all too often, the development into a saleable device is made abroad and the benefit is lost to the UK."
Michael Kenward wrote: "It is not for academics to invent or innovate. It is for businesses and others to pick up the baton and turn academics' findings into products, processes and other stuff that can make money.
"There is, though, a gap between what universities do and what companies get up to. When they are not worrying about where the next grant will come from, universities gaze into the long-term while companies are increasingly short-term in their thinking."
And finally, Kris Baker believes the UK needs to change its attitude to failure if innovation and commercial success are to flourish: "My thought is that we tend to avoid failures, at a macro scale, rather than embracing them as a means to an end. Maybe investors want a quick to market, sub-optimal technical solution in most cases? For those longer-term projects, it is possible that aiming for the perfect solution leads to slower development cycles and loss of competitiveness."
Comments will remain open for the debate to continue below.