In last week's poll - which was produced in association with the organiser of the Tomorrow's Engineers campaign - we asked readers which message they felt would most effectively inspire the next generation of engineers. 
Of the 430 respondents to the poll, 34 per cent agreed that engineers make the world a better place, followed by 32 per cent who believe engineers shape the way we live.
Of the remaining vote, 15 per cent agree that engineers find innovative solutions and 14 per cent say engineering is a well-paid, rewarding career. The remaining five per cent elected for none of the above.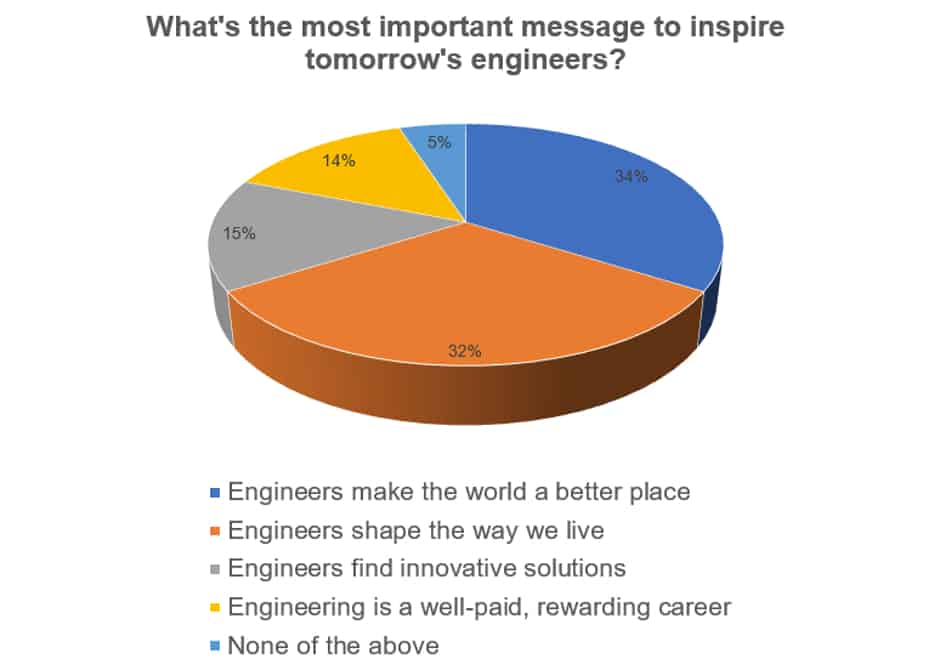 A number of comments followed, with Reinaldo S Sakumoto writing in to say: "In addition to the fact that engineering is generally rewarding, well-paying career, it is also very challenging because engineers are forced to find practical solutions to complex problems all the time. Today, in an age of innovation, engineers are the guys that will contribute the most."
A common criticism heard at Engineer Towers is that youngsters don't get enough opportunities to be more 'hands on' in their formative years, a sentiment echoed by Charles R. Schneider who said: "We cannot make an engineer out of someone just because they can recite the Pythagorean Theorem. The few good engineers that I know, grew up with all kinds of building materials and tools around them. They could make a mess in the basement, in the yard, in the garage. They could get cut, bang their finger, and make noise. They could go to the local dump and scrounge for things they could use, the scrap yards let them have anything they wanted, yes, the parents had to sign a waiver of injury. The parents did not buy them ready to use solutions, the children found their own solutions. True engineering skills start long before they learn how to use the Pythagorean Theorem."
Last week's poll questions were produced in association with Engineering UK, the organiser of Tomorrow's Engineers Week which takes place from 5 – 9 November, 2018.
Tomorrow's Engineers Week will show young people how engineers are determined to make the world a better place, and how becoming an engineer gives them the opportunity to turn the things they care about most into engineering careers.
Comments on last week's poll remain active and we welcome your views. We'd also like to encourage readers to give the Tomorrow's Engineers campaign direct feedback on why young people should become an engineer in this survey. Readers wishing to get actively involved in this year's initiative can find out more here.