?
Last week, jobs board CV-Library published a survey exploring the key attributes they believe to be most useful to engineers in the UK job market today. We asked our readers which of these they felt were the most important.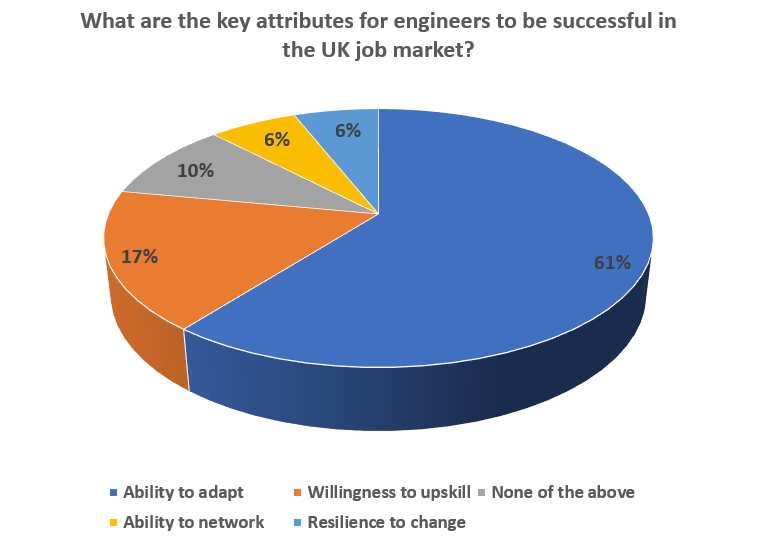 There was absolutely no doubt about which attribute respondents felt was most essential, with almost two-thirds (61 per cent) voting for 'ability to adapt'. Engineering, of course, requires creative thinking and problem-solving underpinned by a solid technical foundation, so it's no surprise that adaptability was by far the most popular option.
Coming in a distant second was 'willingness to upskill', with 17 per cent of the vote. Skills remain an ever-present issue in UK engineering with the dreaded 'skills gap' continuing to loom large. Plenty of The Engineer's readers had advice on upskilling, and it was pointed out that looking beyond traditional skillsets can often be worthwhile.
"Upskilling is good, but don't just think in terms of engineering skills," wrote S.Mitchell. "Looking outside the professional to things like an MBA, or Prince 2, or Six-Sigma. As you move up, the ability to manage, to understand the business, will be just as important as your core engineering skills. Too many engineers think just being good at fixing makes them suitable for promotion."
Tied on 6 per cent each in the poll were the 'ability to network' and 'resilience to change'. Trevor commented that today's digital job market is a double-edged sword, with increased online opportunities attracting an increased number of applicants. Faced with a hyper-competitive careers marketplace, networking and resilience become increasingly important, and getting a foot in the door is perhaps more vital than ever today.
"I don't envy today's job hunter – in engineering or any other discipline," said Trevor. "The flip side of being able to apply for hundreds of jobs at the click of a mouse is – hundreds of applicants for every job. How to stand out, when compiling a shortlist may not even involve human intervention, but rather a computer algorithm? And how to shine at an interview, when it's a 5 minute telephone conversation?"
The remaining 10 per cent of respondents chose the 'none of the above option'. We continue to welcome debate in the comments section below, but we ask all readers to familiarise themselves with our guidelines before submitting, and remind readers that all comments are moderated before publication.