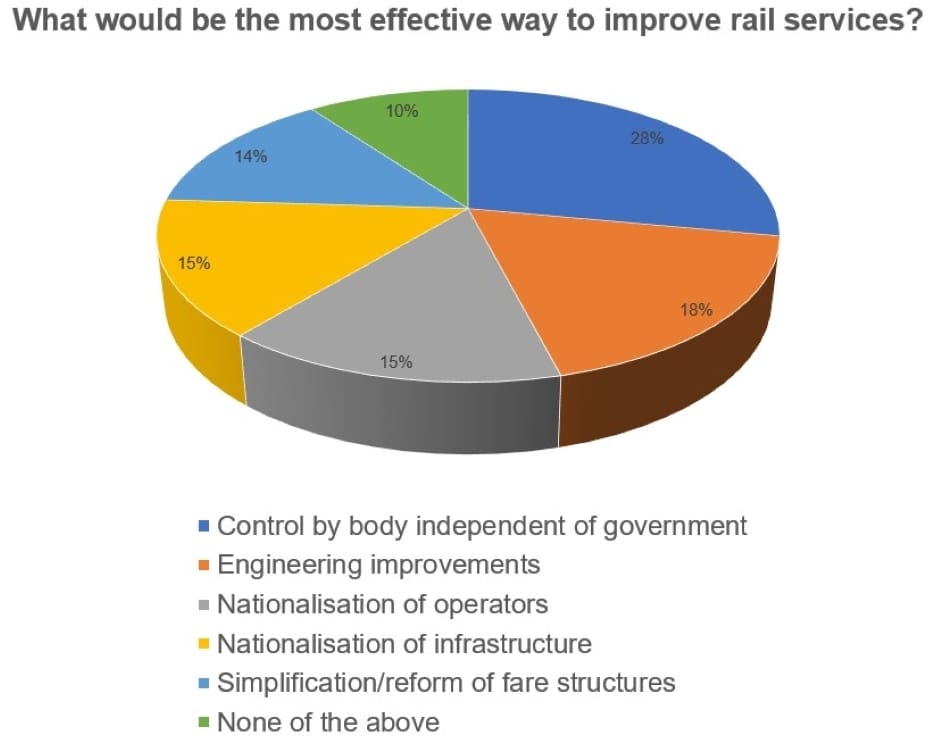 Last year's timetable changes on routes operated by Northern and Govia Thameslink Railway (GTR) were nothing short of disastrous.
Timetable changes were introduced in May 2018 but by early June Northern had cancelled 165 daily services and introduced an interim timetable that removed six per cent of its services. The situation was similarly dire for GTR, which operates the UK's largest rail franchise, with 8,000 services cancelled or delayed.
Poor timetable planning, ongoing modifications to rail infrastructure and staffing issues all helped to compound a problem that left thousands of fare-paying travellers stuck on railway platforms.
Northern and GTR are not alone in experiencing high-profile operating problems, but they are indicative of a wider malaise that has led to a call from former British Airways chairman Keith Williams for rail in the UK to be restructured.
We asked Engineer readers for their thoughts via last week's poll, with just over a quarter (28 per cent) agreeing that rail needs to be put in the control of a body independent of government, followed by the 18 per cent favouring engineering improvements as the sole means of improving the situation.
Thirty per cent of the poll was split equally between those favouring nationalisation of operators and those taking a similar view with regard to infrastructure. For 14 per cent, Britain's rail services would be improved with simplified fares, and the remaining 10 per cent went for 'none of the above'.
In the comments that followed, Another Steve said: "The private sector have had their day and have completely messed up. The railways are no longer providing a transport service for the masses, they are providing a profit stream for the private sector (mostly foreign/state owned companies) subsidised by the taxpayer. An independent body would end up anything but independent and the rip off would continue. Time to return to an efficient version of British Rail, providing a proper, affordable, reliable transport service and maximising the use of British skills and technology.
Commuter Ian Germer added: "I have been commuting to London from Reading since 2003. There are frequent failings of the same things; signalling at Slough, lack of staff, train faults. Clearly neither the management of GWR or Network rail are motivated to fix these problems properly. There is no excuse for the same faults re-occurring so often. So, how to focus the TOC and NR management on real performance improvements? Suspend the main board salaries until there has been 6 months of NO delays."
For Nath, it's a case of simplifying interfaces to promote transparency. "Build a broad ownership model for a variety of parties: employees, customers, investors, regional government, cities and the state – that unites and incentivises a singular vision of success. Provides a singular customer interface. Listens to the customer. Harmonises with other modes of transport. Builds resilience and greater route diversity into the network to manage bottlenecks, simplify maintenance, reduce dependence on London terminals and open new routes for economic growth. Promotes Made in Britain; regional economic prosperity and national connectedness."
What do you think? Keep the conversation alive in Comments below. Readers should familiarise themselves with our guidelines for the content of comments before submitting, and we remind all contributors that comments are moderated before publication.