The poll came about following a speech by transport minister Jo Johnson, who stated that the government wants to phase out diesel trains on the UK rail network by 2040.
He said that ending reliance on fossil fuels is a priority for the government, both to curb carbon emissions and to improve air quality.
But how should this be taken forward: by electrifying the entire rail network, or introducing onboard energy storage with batteries or hydrogen? Would a combined battery/hydrogen solution work best?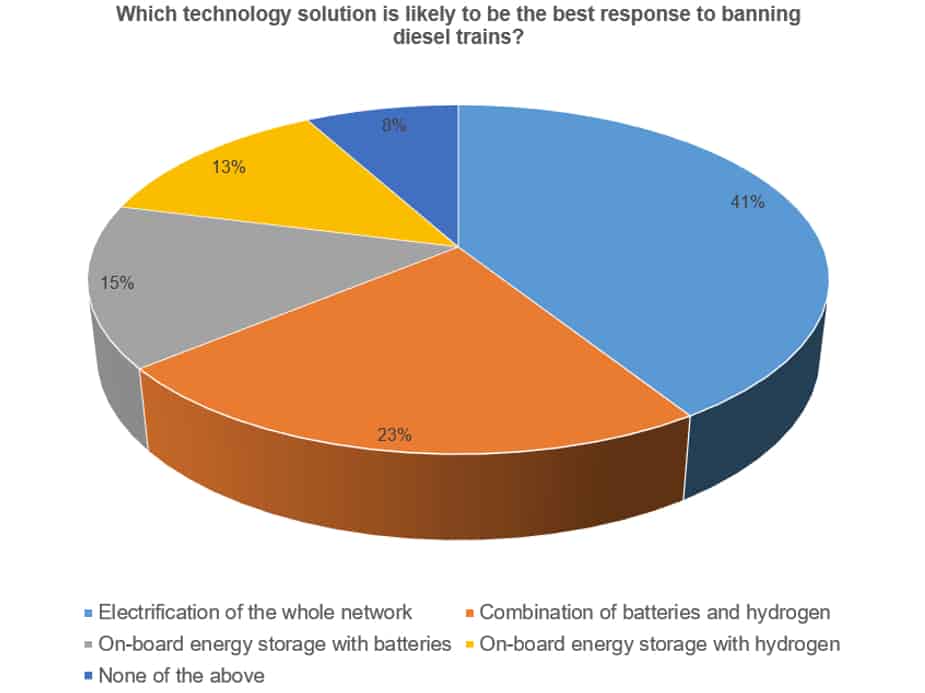 The poll received 701 votes, with 41 per cent of respondents opting for electrification of the whole rail network, and just under a quarter (23 per cent) choosing a combination of batteries and hydrogen. Of those opting for a single energy source, 15 per cent went for onboard storage with batteries, and 13 per cent elected for onboard energy storage with hydrogen. The remaining eight per cent went for none of the above.
The poll has so far helped to generate a great deal of debate, with many stating the case for their preferred source of energy and others asking why government has bothered to raise the issue of taking fossil fuel out of trains.
Phil Mortimer states: "The vacuous comment from the Transport Minister on the intended deletion of diesel fuel demonstrate some serious weaknesses in his understanding of traction economics, train performance and long-term security of supply issues. Has he ever had to sell transport services (freight and passenger in aggressive marketplaces with lots of alternatives?) I doubt it."
Along with commentators from the automotive world, Jack Broughton wrote in to stand up for diesel, saying: "It is worth considering that diesels are being developed still and can meet the most stringent emissions standards at a very high level of efficiency and reliability."
Of those favouring a switch from diesel, Rod Evans said: "Advanced fuel cells are the only option that could do the job without massive unaffordable infrastructure alterations." Sandy added: "Hydrogen is the obvious replacement. It requires no electrical catenary wires, so we don't have to make our Victorian tunnels taller. No icing, tension or breakage problems and no resistance losses. If hydrogen trains are 'untested', why are DB ordering a fleet of them for suburban use in Germany?"
The debate rages on and your opinions are we welcome in Comments below.