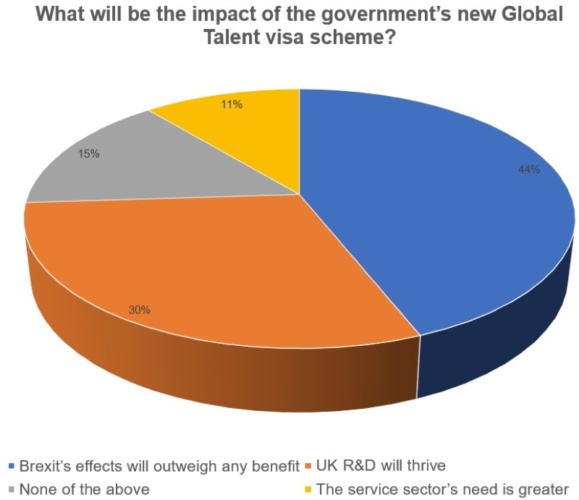 From February 20, people entering the UK under the government's Global Talent Visa scheme will require endorsement from UK Research and Innovation (UKRI) but will not be required to hold an offer of employment before arriving and will not be bound to a specific job.
"Our ambition is clear: to create a stronger research and innovation environment that is focussed on supporting talented people and realising the full potential of their work," said UKRI chief executive, Professor Sir Mark Walport. "The new Global Talent Visa, including extensions to the existing fast-track process, will be welcomed across the community and will provide further support to our universities and institutions in their international ambition."
As noted last week, scientists working on projects that have already received funding from bodies such as the European Space Agency and the Japan Science and Technology Agency will be eligible. This includes recipients of fellowships including the Marie Skłodowska-Curie Actions, the European Research Council and Human Frontier Science.
The Global Talent Visa is hoped to boost UK R&D by providing clarity to those wishing to further their research in the UK, reversing the flight of almost 11,000 EU academics who left the UK following the 2016 EU referendum. There will, however, be thousands of vacant jobs in other sectors that do not qualify under the programme. Is there a case for a viable scheme to maintain labour levels in the service sector?
According to 44 per cent of respondents to our poll, any benefits of the new scheme will be outweighed by the effects of Brexit, followed by 30 per cent who think UK R&D will thrive. A total of 337 took part in last week's poll, with 11 per cent believing the service sector has a greater need for migrant workers, and remaining 15 per cent opting for 'none of the above'.
In the comments that followed, Another Steve said: "The pre-existing visa scheme had three tiers with the top tier allowing the fast tracking of skilled people, the only difference being that there was a cap in place – a cap that was never reached… Nurses and Care Workers are on the bottom tier of the visa scheme – and these are people that the country really needs – Why aren't these people rated as highly skilled and fast tracked?"
"A step in the right direction for science, but what about engineers and technologists?" asked Ian Wilson. "Once again, the politicians are completely out of touch with industry."
What do you think? Let us know in Comments below. All comments will be moderated and the rules of engagement can be found here.