Developed by researchers at the University's Optoelectronics Research Centre (ORC), the technique uses femtosecond lasers to deliver ultrashort pulses of light, writing data files in three layers of nanostructured dots separated by five micrometres. Size and orientation provide an additional two dimensions, making the storage 5D.
When the technology was first demonstrated back in 2013, a 300kb digital file was successfully recorded in 5D. The process has now been refined to the point where 360TB can be stored on a single disc.
"It is thrilling to think that we have created the technology to preserve documents and information and store it in space for future generations," said Prof Peter Kazansky from the ORC. "This technology can secure the last evidence of our civilisation: all we've learnt will not be forgotten."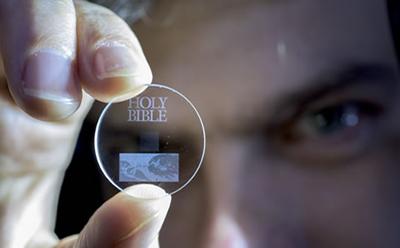 The self-assembled nanostructures are created in fused quartz, changing the way light travels through the glass, modifying polarisation of light that can then be read by a combination of optical microscope and a polariser.
Furthermore, the glass is thermally stable up to temperatures of 1000°C, and the researchers claim it has a "virtually unlimited lifetime at room temperature." This makes it a reliable form of portable high-density memory that could be used by national archives, universities, large companies, museums and libraries.
So far, historic documents such as Magna Carta, the Universal Declaration of Human Rights, and the King James Bible have all been recorded using the technique. The Southampton team is now looking for industry partners to help further develop the technology and explore commercial opportunities.