Oil and gas company Total is developing a new drone with capabilities to assist in search & rescue, environmental protection, and rig safety.
The unmanned aerial vehicle (UAV) is the brainchild of Fabien Farge, an emergency physician with Total in Angola. Known as HELPER (Human Environment and Life Protection Emergency Response), the drone carries a thermal camera that can be used to locate people at sea, as well as assessing the scale of leaks and spills.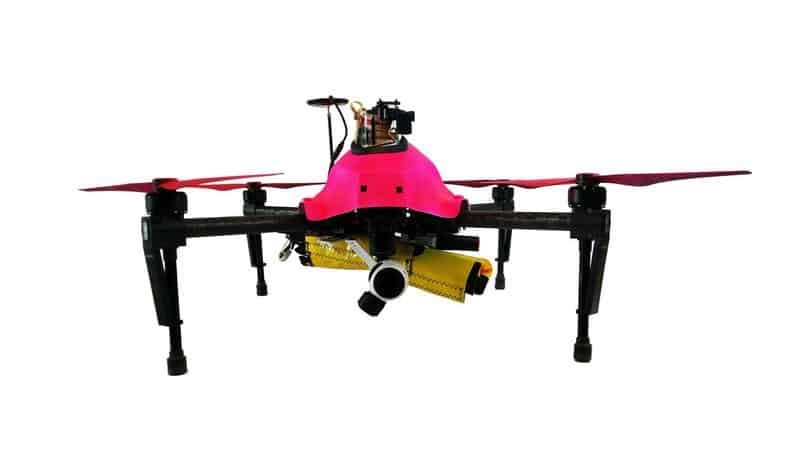 Different equipment can be swapped on to the drone depending on its mission, including a self-inflating buoy that can be dropped during rescue efforts, a tracking device to monitor slicks in real time using Google Earth, and a radio device to communicate with fishing crews and drifting boats near rigs.
"The drone carries all the equipment it needs for a (specific) mission, so the equipment changes depending on the mission, but the camera is useful for all missions," Farge told The Engineer.
HELPER is based on an existing UAV platform developed by pilot and drone manufacturer Gérald Dumartin. After Farge had the initial idea for the project, he went to the Basque Country to bring the concept to fruition with Dumartin.
"Working in the Basque Country, we started out with one of his regular drones and added a bit of electronics," Farge explained. "The first tests went great, but we realised we needed a much more 'professional' drone, and that did not exist on the market. So we created it with the help of two local engineers, in the Basque Country as well: David and Anthony Gavend. They worked on the algorithms necessary for the drone to fly in the most autonomous way."
The UAV is currently undergoing search & rescue testing in Biscarrosse, southwest France, with local lifeguards putting it through its paces. The next phase will see HELPER deployed to a rig site in Angola, where all its mission capabilities will be tested.
"In Angola, it will be tested on a Total offshore site for different applications," said Farge. "For example, we could test environmental protection: In the event of a leak, the drone's thermal camera can assess the situation and determine its scale."
"In the event of a man at sea, using the same specifics as the ones being tested right now in Biscarrosse. And in the event of an intrusion around the site, to try and engage a radio contact."
Along with the potential applications in oil and gas, Farge said that French firefighters were also interested in HELPER, potentially using the UAV to monitor large fires.
"This drone can find many other uses to access faster, for a cheaper cost, dangerous areas or where there are problems, and bring in real time information to operating teams," he said. "It's a real progress in efficiency, in cost reduction, and in safety and protection."