Finishing touches are being made to a high-tech temperature-controlled medical storage facility that will help military medics save lives in Afghanistan.
British forces will be the only military in the world to have the Bulk Medical Storage Facility (BMSF), which is designed to work in extremes of temperature and can hold the equivalent volume of blood products of a small hospital blood bank.
The new system will provide secure storage for medical material at deep frozen, refrigerated and ambient temperatures simultaneously, even when external temperatures rise as high as +58oC or drop as low as -26oC.
Each BMSF is based on 6m-long ISO containers with on-board power generation and a capability to 'hook up' to expeditionary infrastructure power supplies. The systems will be deployed to military medical staff at forward field hospitals.
This unit is the first to be produced under a £2.9m, four-year contract awarded to General Dynamics UK in April. The BMSF will be tested by the Ministry of Defence (MoD) next week and then a further 13 will be produced.
Under the contract, General Dynamics UK has already supplied 88 portable refrigerator systems that can be taken closer to front-line operations and will keep blood products at +4oC. The blood can be safely stored at the correct temperature anywhere where there is a power supply and for up to eight hours without power.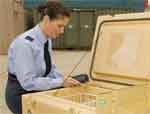 The BMSF systems will allow the transport of up to 30 units of blood that can be safely stored at the correct temperature anywhere there is a power supply and for up to eight hours without power. Picture: Andy Cargill ABIPP, Crown Copyright/MoD 2009